Inter Miami officially unveils Lionel Messi in weather-impacted ceremony in South Florida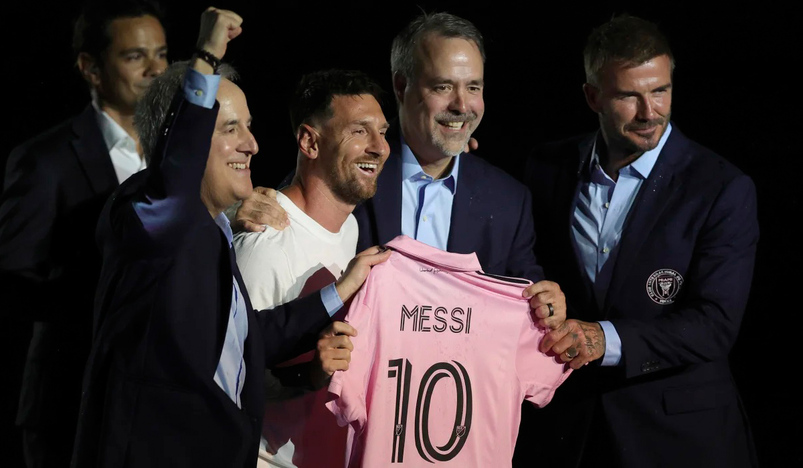 Lionel Messi
Not even South Florida's rain on Lionel Messi's parade could stop the Argentine superstar's introductory celebration to Inter Miami as fans weathered the elements to welcome one of the greatest soccer players ever to their home at DRV PNK Stadium on Sunday.
"I want to thank the people of Miami for this welcome since I arrived in this city," Messi told the fans in attendance at the stadium in Fort Lauderdale.
"Truthfully, I'm very excited, very happy to be here in Miami and be with you … I'm eager to start training and to compete. I come here with the same desire to compete, desire to win and help the club to continue to grow.
"I hope that throughout this time you continue to support us as you have since the season began," Messi continued. "I'm very happy to have chosen this city with my family, to have chosen this project … I have no doubt that we are going to have a good time. Thank you all very much for this day."
The event's festivities were originally scheduled to begin at 6:30 p.m. ET, but heavy rain and thunder caused a two-hour weather delay.
Inter Miami owners David Beckham and Jorge Mas addressed the crowd prior to introducing the seven-time Ballon d'Or winner.
"Ten years ago, I started my journey to build a new MLS team," Beckham told the crowd. "I said then, I dreamt of bringing the best players in the world to South Florida and to the great city to Miami. Players who shared our ambition to grow soccer in this country.
"We are so happy that you are all here to celebrate this incredible moment, a moment that will be watched around the world, as a truly great player and amazing person joins our family," Beckham continued.
"So please forgive me for feeling a little bit emotional tonight because it really is a dream come true. So welcome, Lionel Messi, to Inter Miami."
Meanwhile, Mas followed with a motivational speech to the fans.
"This is a city that's built on dreams, hard work, sacrifice, and emblazoned on our jersey is a saying that says 'Freedom to dream' – and that will always be this team's mantra," he said. "Today, a new journey and a new chapter starts. There will always be a before and after Lionel Messi.
"Tonight, we're doing this Miami-style in the rain. This is holy water!"
The 36-year-old Messi is expected to make his Inter Miami debut on July 21 against LIGA MX side Cruz Azul in the opening match of the Leagues Cup.
Also on Sunday, Inter Miami announced the signing of Messi's former Barcelona teammate Sergio Busquets. The midfielder, who won nine La Ligas and three Champions League titles with the Spanish side, was unveiled alongside Messi at the rain-soaked ceremony.
By Homero De la Fuente, CNN