ICC Qatar to host a webinar on the latest risk and financial crime trends on May 17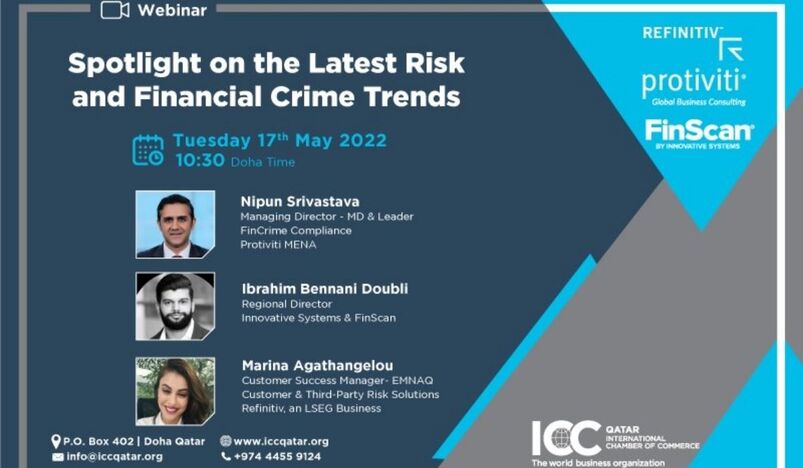 Webinar's Poster
The International Chamber of Commerce Qatar (ICC Qatar), in partnership with Refinitiv, Protiviti and FinScan by Innovative Systems, will hold a webinar titled"Spotlight on the latest risk and financial crime trends" via Zoom on Tuesday, May 17 at 10:30am.
The webinar will feature several experts and international speakers in a variety of topics, including Financial Action Task Force (FATF), Mutual Evaluations assessments of the Gulf Cooperation Council (GCC); sanctions, and financial crime trends in the fight against money laundering.
Speakers will include Nipun Srivastava, Managing Director & Leader of FinCrime Compliance at Protiviti Mena; Ibrahim Bennani Doubli, Regional Director of Innovative Systems & FinScan and Marina Agathangelou, Customer Success Manager - EMNAQ Customer & Third-Party Risk Solutions from Refinitiv.
The Seminar will tackle the latest in financial crimes, and the best practices that organizations can adopt to combat these crimes. 
Registeration can be done on ICC Qatar's website www.iccqatar.org.