Iberia Joins British Airways and Qatar Airways to Expand World's Largest Airline Joint Business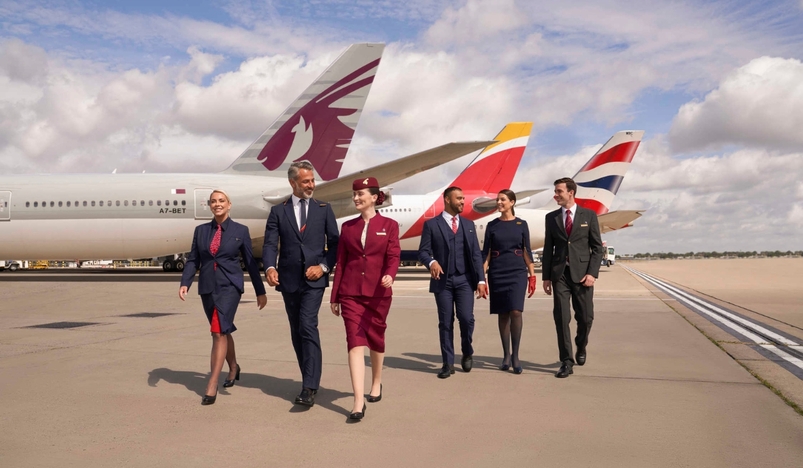 Iberia Joins British Airways and Qatar Airways to Expand World's Largest Airline Joint Business
Qatar Airways, British Airways, and Iberia, the national carriers of Qatar, the United Kingdom, and Spain are joining forces in the largest joint operations alliance between airlines.
Qatar Airways said in a statement today that Iberia is joining in July the partnership that already existed between Qatar Airways and British Airways, which will enhance travel options for travelers from all over the world via Doha, London and Madrid.
As a result of the joint business, Iberia will add a new daily service from its hub, Madrid Barajas International Airport, flights to Hamad International Airport, starting Dec. 11, 2023. Passengers will be able to connect to more than 200 destinations through the three global airlines.
Together, Iberia's and Qatar Airways' expanded service will operate three times daily on the route, providing unrivalled connectivity between the Iberian Peninsula and key markets in the Middle East, Africa, Asia, and Australia.
HE Qatar Airways Group Chief Executive Akbar Al Baker said: "At Qatar Airways, we believe in connecting travelers to their destinations of choice and our recent enhancement to the highly successful joint business with British Airways, includes the addition of another oneworld member, Iberia. Our passengers will now have more opportunities than ever to connect to different destinations across the British Airways, Iberia, and Qatar Airways' networks.
British Airways' Chairman and CEO, Sean Doyle, said: "Last year we expanded our joint business partnership with Qatar Airways with the addition of 42 countries, and I'm so pleased to see it growing even further as we welcome Iberia on board. We're committed to offering our customers as much choice as possible, and working so closely with our partners in Madrid and Doha connects British Airways to more than 200 destinations globally."
Iberia CEO, Fernando Candela, commented: "Joining the QJB with Qatar Airways and British Airways is excellent news for our customers. We are really excited about the launch of our Madrid-Doha route. Through QJB hubs in London and Doha, we are building the much-desired bridge between Spain and more than 200 destinations in Asia, Australasia, the Middle-East, and Africa, and offering new opportunities for travelers in both directions. Our country is moving towards a new model of higher-quality tourism."
As a global airline and the UK's flag carrier, British Airways has been flying its customers to where they need to be for more than 100 years, with its main home at Heathrow Terminal 5, in London. It Airways flies to destinations in more than 65 countries.
Iberia has been flying from Spain for more than 96 years. Iberia alongside Iberia Express and Iberia Regional Air Nostrum, offer flights to fifty countries from Madrid airport, where it has developed its hub.
Qatar Airways currently flies to more than 160 destinations worldwide, connecting through its Doha hub, Hamad International Airport, voted by Skytrax as the World's Best Airport' in 2021 and 2022 consecutively. This year, Hamad International Airport has received the Best Airport in the Middle East'.
(QNA)