'I will love Al Sadd forever, I will love Qatar forever': Xavi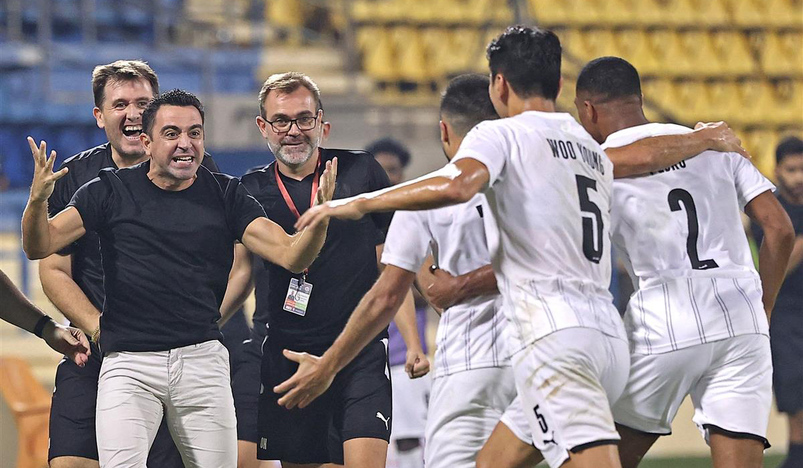 Xavi Hernandez
The Spain and Barcelona legend terms his sojourn at Al Sadd as player and coach as an amazing privilege.
Xavi Hernandez bid goodbye last Friday to his Qatar club Al Sadd where he excelled both as a player and coach in a trophy-laden stint. The Spaniard requested to be allowed to leave since he has a desire to help his former club Barcelona which had been desperately seeking him as their coach. Prior to his departure, Xavi gave a detailed interview to al-saddclub.com.
Excerpts from the interview:
You've been with Al Sadd since 2015 as a player and then as coach. How do you evaluate this period?
I have been here since 2015, and it means six years plus these two, three months. In my opinion, it was the best period in my life. When I came here, I found a big family, the Al Sadd family. And since the beginning it was a love story with the players, with the management, with a club and with the fans. It was an amazing privilege to be a player of Al Sadd, and then Al Sadd gave me the opportunity to take over as the coach of the team. I can say that it's the best period in my life, especially, also in terms of the family life here. It was perfect, with my wife, and also my kids who were born here. And then in football terms, it has been a huge privilege to coach Al Sadd.  So after six years, I'm very sad, of course, to leave the country, to leave Al Sadd as a club. Because I leave many feelings here, especially personally for me and my family. It was an amazing, amazing moment. And then this is a love story forever. 
I will love Al Sadd forever, I will love Qatar forever. So this is the evaluation of these six years; I enjoyed it a lot. I grew a lot, I was growing with the players. As a player, I enjoyed a lot and then I started as a coach. I grew really, really fast as a coach here. It was a great experience. So now, Barcelona came to me and it's my dream to go there. And I just can say, thank you so much to Al-Sadd. Thank you to the supporters, the players, the management: it was a big privilege to be here. 
You won 7 titles with Al Sadd as coach. Which one is the most memorable for you?
Honestly, I cannot say this particular title is the best because when we now evaluate this period, I remember the four titles that I won as a player, plus the seven titles as a coach. But more than that, I think it is about how we played, and how the players adapt with our new philosophy. It wasn't easy in the beginning. They sometimes didn't understand our way to play because, of course, all the changes need time. But they adapted really well since the middle of my first season as a coach. And then I think I felt the change when we played the Qatar Cup in my first season, when we defeated Al Rayyan 4-1, and then in the final we defeated Al Duhail 4-0. It was an amazing tournament for us. And it was like a point of change. I felt there that the players changed a little bit and adapted our philosophy. We press high, we control the ball, we dominate the games, we have the possession. Our game model started working just in these two games, and it has continued until now. So I enjoyed a lot as a coach, I enjoyed how they played, more than winning. I think the supporters of Al Sadd for sure will remember how we play. And this is my legacy here, our legacy as the staff. 
What was the best moment for you with the team?
It's difficult to choose one exactly one moment. But I felt a lot of respect for me from the management, the players, the club and the supporters.  It was really emotional during the meeting with the players and I was crying, because during these six years, I had a very good relationship with the players and the management. And I think this is the most important part of life – the respect of the players. It was amazing. So I think I can choose this moment. 
Which is the best goal you scored for Al Sadd?
The best goal maybe was when we played in the Champions League in Uzbekistan, and I scored two goals. And we drew of course, we didn't win but I remember these two goals very well. One free kick from long distance, and the first one was a pass from Baghdad and I scored a really, really nice goal.
How would you describe the group of players who were with you?
I remember my relationship with the players, how they understand my football. I never thought that in Qatar, we have this kind of talent, like Akram Afif, Hassan Al Haydos, Khoukhi Boualem, Pedro, Ali Asad, Meshaal Barsham, Saad Al Sheeb, Tarek Salman, Abdelkarim Hassan. This generation of local players was a big surprise for me. These local players made the difference for the team because they love football. They love football, and together we built a very strong team from the beginning. Also, there are the foreigner players. I remember I didn't know Baghdad Bounedjah. Honestly, I didn't know. In my opinion, he is a top forward, a top number nine. Then there was Gabi, and Santi Cazorla, who in my opinion is the best player I coached until now. There is also Guilherme, Rodrigo Tabata, Woo-young and Nam Tae-hee. I remember these kinds of players that can make the difference for the team, but at the same time, they are good people in the dressing room. And we built together a very good atmosphere and very good environment. So more than goals and more than passes, I will remember my relationship with all the players. 
What was the toughest moment for you in dealing with the players?
I remember when I started as a coach and everybody said "Xavi Out" in the stands, it was a very difficult moment, honestly. But I understand it. I'm not new to football. It happened to me in Barcelona many times and I understand because when you don't get results, at the end, people are very, very angry. I understood the situation. I tried to change, and I remember after this game, I remember a very important meeting here. I met them just by myself as a coach, and without the technical staff, and I talked to the players very straight, very honestly. And I remember that I said to them that if I was the problem, I would go out; I don't have problems. But I think at that moment, I felt that okay, we will improve. We will train harder, we will work harder. And look at it now, it was one of the best periods in the history of Al Sadd for sure. 
How do you look at the period after the 2019 Champions League exit, when the team suffered many losses?
Yes, I remember this period very well because we lost against Al Hilal. It was a big mistake from ourselves here at home. I remember I told the players that there are two games; that we have to be calm, to not be nervous and to control the temper, but it was impossible. So after that, I remember the red card of Abdulkarim Hassan and how the team was going down after that, for one month and a half. And we lost our chances in the Qatar Stars League during this period. After that, okay, we improved a lot in the Qatar Cup, which was the point of change for us. But this period was really difficult. We lost to Al Wakrah. We drew many games and we lost against Al Rayyan. And I think mentally the team needed a little bit more. And that's why I'm growing a lot as a coach in these kinds of periods. Because when you win, of course, it's much much easier, everything is much easier. When you lose, this is the moment when you improve as a coach. It was a really good time to improve myself, to improve the team. Nothing happens for no reason. During all the periods, you can improve, especially during the bad moments.
Do you think you made all your plans work before you left?
Yes, I think I did everything for the players. I tried to make them feel confident, and that they feel comfortable. I remember that I told the players that we have three objectives as coaches. The first one is to help the players personally and professionally. The second is to enjoy, in training and on the pitch, during games. And the last one is to win. We won almost everything. I will just remember that we didn't have luck in the Asian Champions League. This is the point that I will remember but the rest, I did everything for the players. I think they were enjoying themselves. So I'm proud, and I'm happy for myself, the technical staff, and of course I'm very proud of the players. In the end, the most important part in football are the players. As a coach, when you have good players, good professionals and good people, it is much easier to win. You will move closer to win any competition and it happened here. 
The players say they want their new coach to be like Xavi. What do you say about that?
When the players say that, I feel very proud because it's a matter of respect. It means they don't suffer in the training and that they were enjoying themselves. It makes me feel very happy. The coach that will come here next, he will enjoy here for sure, because you know, we have a big squad, with big personalities and professionals. So there's no need to be worried. The coach that will take over at Al Sadd will enjoy it here and he will be happy here. The environment is perfect. The supporters are always really happy with the team. Of course, they have to choose well, but the squad that the new coach will have is amazing. They're amazing. And for sure Al Sadd will continue winning, I'm sure. I'm sure they will continue winning trophies for sure. 
Your message for the fans?
For the supporters, I want to say: thank you so much. I learned from them also: when they criticize, it's normal. I understood really well, as I told you before. But always, I felt that they support me, and the team. And of course, the team needs the fans, especially in the bad moments because honestly, the bad moments will come. And they have to be loyal and they have to be the big supporters that they are. So I just want to say thank you so much because I enjoyed a lot during this time here. Thank you. 
What is your final word about the club?
When I speak about the club: honestly, I'm talking from the bottom of my heart. I will miss you all because you are excellent people, top professionals. The players, the management, the kit staff, the medical staff. It was an amazing period of my life. So of course, I will miss you a lot. But I wish you all the best because you deserve it. I found the best people here and I can say you are all excellent and you will always be in my heart. I'm a Saddawi now, a supporter of Al Sadd, and it will be forever. Al-Sadd is here. Al-Sadd is here. So I will follow the team always, for the rest of my life, for sure. 100%. Of course, you never know; maybe it's not the time to say goodbye. Maybe I will come back in the future. Why not? I feel Al-Sadd is my home. So thank you so much to everybody. And I'm very happy and very proud to be part of the history of this club.