Hundreds of cultural and artistic events await 2022 FIFA World Cup Qatar fans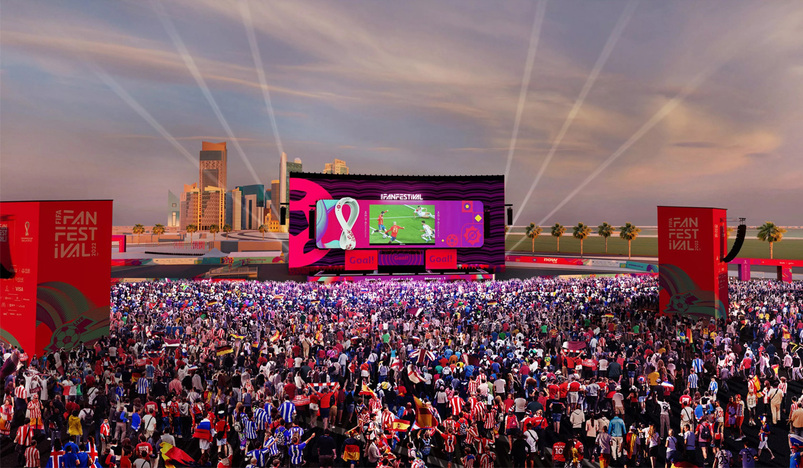 FIFA Fan Festival
A number of official and private institutions have prepared a rich programme of cultural, artistic and entertainment events for the public on the occasion of the 2022 FIFA World Cup Qatar.
Several official and private bodies have announced their activities accompanying the World Cup, which will cater to all people who will come to Qatar from all over the world.
Qatar Museums was among the first to announce its activities to accompany this global event, which is repeated only once every four years and is held for the first time in the Arab world and the Middle East. Their activities include 17 exhibitions in five museums. It will also include 10 high-level events and three festivals among others.
For its part, the Katara Cultural Village announced its activities accompanying the FIFA World Cup Qatar 2022. Katara will organize 51 events, and 300 sub-events will be branched with the participation of 22 countries. The events will take place from November 18 to December 18. Katara will also organize concerts by international bands from Argentina, the UK, and Arab countries, given that music is a universal language shared by everyone. Moreover, Katara will host art exhibitions and events from Paraguay, Dominican Republic, Uruguay, Ecuador, Bosnia and Herzegovina, Russia, Mexico, Indonesia, and Iran. Katara Publishing House will also publish 22 books in Arabic and English.
Meanwhile, Qatar Foundation revealed the set of events and activities that Education City will host throughout the duration of the FIFA World Cup Qatar 2022, which will be available for everyone to participate in and enjoy.
The Education City Stadium, which will host a number of FIFA World Cup Qatar 2022 matches, will also host a series of activities for fans and the general public. The stadium will be open to the public at all times.
The 2022 Street Child World Cup was also organized, which saw the participation of 28 teams from 25 countries around the world, including 10 teams that included refugee or displaced children.
As for the Supreme Committee for Delivery & Legacy (SC), it will organize hundreds of events in nine areas. The SC released on August 24 a 54-page guide with all the details of the activities accompanying the FIFA World Cup Qatar 2022. The guide contained many statistical figures, including that 12 archaeological sites and castles that will be available to visitors to Qatar in the tournament, along with 23 museums, as well as allocating 33 kilometers of tracks for cycling enthusiasts, more than 3,000 restaurants and 30 shopping centers.
Among the most prominent events for the fans at the FIFA Fan Festival in Al Bidda Park, the tournament matches will be shown live for nearly 170 hours of live broadcast, and 100 hours of live music featuring international and regional stars on an area of 5,000 square meters. The times of events will be in the group stage from November 20 to 28, from 10 am to 2 am, and from 2 pm to 2 am during the knockout stages. Rest days will see events take place from 5 pm to 2 pm.