Huge Public Turnout At Darb Al Saai Events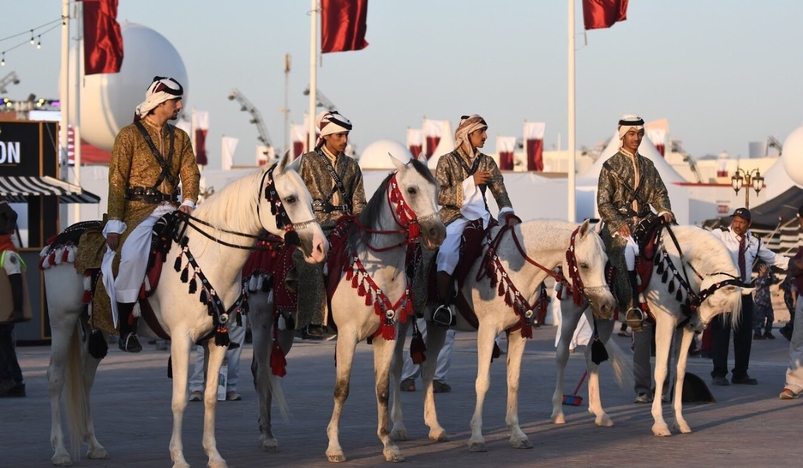 Darb Al Saai Events
The activities of Darb Al Saai has emerged as a major attraction for the public for the various cultural and heritage events held by the Organizing Committee for the National Day 2022 celebrations, under the slogan "Our Unity Source of Our Strength." in Umm Salal.
A number of visitors to Darb Al Saai stressed that the celebration of the National Day is an incentive to achieve Qatar's vision, renew loyalty to the wise leadership, work hard, and continue the path of achievements that placed Qatar in the ranks of developed countries, also they affirmed that the country is experiencing a state of joy and pride in the achievements that have been made during the past period, and that the activities held in Darb Al Saai reflect those achievements that reflect the present of Qatar, this is in addition to the heritage activities that celebrate our glorious history, where visitors to Darb Al Saai, especially from the new generations, can learn about the customs of our ancestors and our national heritage.
In a related context, the audience of Darb Al Saai daily keen to purchase of heritage holdings that have historical significance related to the Qatari house, in the auction that is held in the main courtyard of Darb Al Saai, near Gate 2.
The auction supervisor at Darb Al Saai, Hisham Naanous, said that the idea of the auction in Darb Al Saai reminds of the Qatari heritage, where ancient heritage holdings related to the Qatari house are displayed, with the auction being presented in the old auction method.
Yesterday, Darb Al Saai witnessed extensive celebrations, and joy spread among the Arab masses, after the Moroccan national football team qualified for the quarter-finals of the FIFA World Cup Qatar 2022 for the first time in its history.
(QNA)