How to Manage a Freelance Team (9 Strategies)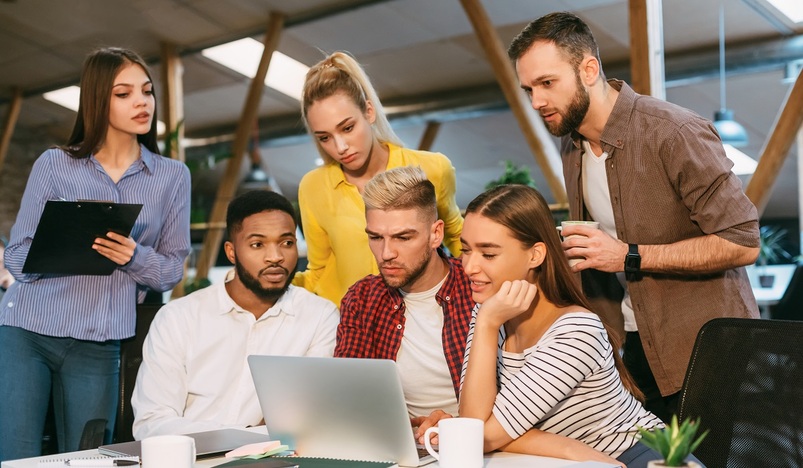 Freelancers
Hiring freelancers comes with plenty of perks. But managing a team of remote workers from a distance can prove challenging. Here's how to do it!
Managers know that overseeing a team of employees poses a challenge. Each person brings a set of skills, opinions, and personalities.
And although everyone's pulling in the same direction, there isn't always a consensus on how to reach the destination.
Adding freelancers to a team offers several benefits.
But managers must also oversee individuals who work remotely, and they've never met face to face. So, making a connection with the best contractor for the job becomes vital.
The following are nine tips to help managers successfully manage freelancers.
Getting Them On Board
Some freelancer projects are short-term. Others run longer. Despite the time frame for your freelancers, it's important to get them on board promptly.
Get to Know Them
Every freelancer has a reason for accepting a project. It helps to understand their motivations.
Why did they agree to work for your company?
Additionally, take some time to get to know them as a person. You don't have as much time with a freelancer as you would with an employee, but feel free to ask questions about them during the onboarding process.
What do they enjoy outside of work?
Are they working on other projects?
If the contract is short, it's still a good idea to develop a positive working relationship with the contractor. You may find yourself in a pinch and need their services again. They're more likely to accept another project from you even if they're working on others if the onboarding process goes well.
Show Them the Ropes
A freelancer needs a brief overview of your company's operations. Discuss your expectations, style guides, and content management system.
If they're working for you on a one-off project, it's still essential to set them up for success. After all, you're paying a significant sum for the work.
Showing freelancers the ropes impacts the final product they turn in.
Ideally, you hired a freelancer that fits the parameters of your project. Thus, showing them the ropes won't be a drawn-out process.
Look for someone who can hit the ground running on day one.
Discuss Your Brand
Discuss your company's brand with the freelancer during the onboarding process too. They probably already know what your company is about, but it helps to go over small details that define it.
Brief copywriters on tone and graphic designers need access to existing images, logos, and templates.
Now, if you're aiming for a brand refresh, ensure that the freelancer understands your company's new direction.
Managing the Team
To achieve a successful relationship with freelancers, set up your management plan beforehand.
As you work with more independent contractors, you'll learn from every experience. Then incorporate them into the management strategy.
Create a Clear Working Model
You don't want a freelancer to spend any time spinning their wheels aimlessly, especially if they're billing you by the hour.
A clear working model sets them up for success.
You want them to deliver their best work on time.
Even though a freelancer doesn't attend meetings in-person, brief them as you would an in-office employee. The working model is like the ones you use on-site.
Make Them Part of Your Vision
Freelancers build their portfolios every time they complete a job. As a result, they have an incentive to deliver the best final product possible. It's a win-win situation, especially if you make them part of your vision.
If you hire freelancers who work on-site, it's best to treat them as an employee. Separating them from the rest of the team on the same project doesn't help them feel like they're a valued member.
Understand Their Strengths
Most freelancers specialize in an area of a broader category.
For example, one freelancer has mastered full-stack development while others focus on the front- or back-end.
Copywriters have specific focuses too. For example, one is adept at marketing content while another produces stellar content for blogs.
As you review each freelancer's resume, don't forget to pay attention to their strengths. Their strengths should match the guidelines of your project. Then, you can leverage their strengths against the project's requirements.
Offer Them Flexible Timelines
Individuals become freelancers because they enjoy the freedom and have stellar skills.
In some cases, they have responsibilities that don't allow them to work in an office 40 hours a week.
Some stay busy all the time, and others work seasonally. So, they need more flexible timelines.
If you're trying to make a last-minute deadline, communicate this information to the freelancer.
But don't micromanage.
When you hire the right freelancer, the business relationship flows easily. So, you need to trust that you made the right choice.
Freelancers will take projects that require a quick turnaround. Communicate your timeline requirements to them from the beginning. Otherwise, flexible timelines allow them to maximize their skills, creativity, and time.
Invest in Cutting-Edge Tools
The internet has aided remote freelancing work for the last two decades.
Freelancing skyrocketed in popularity in 2020 and continues to thrive in 2021 because more employers and workers found themselves in circumstances where it was the only option.
Content management systems, video conferencing, and productivity software help freelancers complete projects seamlessly. To help your hires succeed, invest in cutting-edge tools.
Collaboration tools help virtual teams succeed. If you're going to continue working with freelancers, the software is a necessary investment.
Texting and emailing still get the job done. The issue with these two mediums is that they're not the best for deciphering context. For example, if you're trying to explain your definition of bold or new to a graphic designer, it's best to do it over a video call.
Consider Their Working Hours
Your freelancer's location determines when they're available for communication. It also decides their working hours. Some work odd hours while others keep regular business hours.
As you set down deadlines, consider their availability.
If you need something first thing in the morning, but they're not available until the afternoon, set the deadline for the day before.
---
Conclusion
Freelancers offer a set of specialized skills. They're independent and enjoy their freedom.
Startups hire freelancers, but enterprises are jumping on the bandwagon too.
A freelancer's success begins with your preparation. If you're ready to guide them through your project, they're more likely to deliver a quality final product.
[Author's bio]
Adam Marshall is a freelance writer who specializes in all things apartment organization, real estate, and college advice. He currently works with Varsity House Fayetteville to help them with their online marketing