How Qatar and Media House Helped to Evacuate Afghan Colleagues Out of Kabul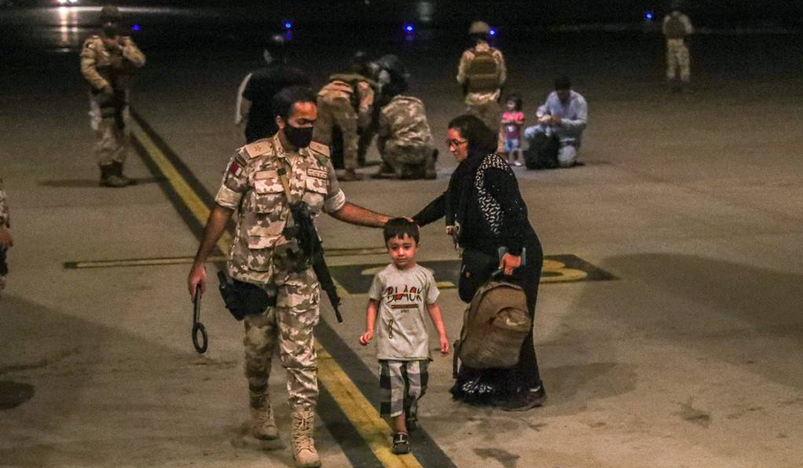 This undated handout picture provided by Qatar's Government Communications Office (GCO) on August 21, 2021, shows a member of the Qatar Air force walking next to a boy evacuated from Afghanistan, at Al-Udeid airbase in the Qatari capital Doha. Qatar's Government Communication Office (GCO) / AFP
A G Sulzberger, publisher of The New York Times, has said the company was "deeply grateful" to the government of Qatar, "which has been truly invaluable in getting our Afghan colleagues and their families to safety."
For hours in the relentless heat, they towed their children, suitcases and strollers at the tarmac, waiting, hoping for a flight to freedom that wouldn't come. More than 200 Afghans from all disciplines, including cooks, gardeners, translators, drivers and journalists, gathered on the runway at Kabul Airport, calling for the government to escape from the collapsed country at a shocking rate.
When the Taliban troops surged into a crowded airport, a group — local employees of The New York Times, The Wall Street Journal, The Washington Post and their relatives — heard the shooting. They quickly scattered and eventually returned to their homes where their safety was not guaranteed.
It will take several days before some members of the group will be able to secure transit from Afghanistan on Thursday. This is a spill that occurred after global relief efforts from the US newsroom to the Pentagon hall, the palace of the chief in Doha, Qatar. .. One Times correspondent, a former U.S. Marine, had previously evacuated but returned to a military plane to assist his Afghan colleagues, but stayed at the airport to help coordinate his escape.
The trials of this group were one of the many trials that took place last week in Afghanistan. There, citizens who worked side by side with Western journalists for years and helped inform the world about their country's tragedy are now their families under their own security and the Taliban. Media around the world are calling on high-level diplomats and field repair personnel to help employees escape situations that were not expected to deploy so cruelly and so quickly.
As the situation in Afghanistan has deteriorated recently, Times, Journal and Post publishers have united in their evacuation efforts. The guards and editors shared information about the morning phone call. The publisher called on the Biden administration to facilitate the passage of Afghan colleagues, and talks continued with White House, Pentagon, and State Department officials.
By Sunday, the station was closed and the streets of Kabul were chaotic. As the US military, contractors, and security teams left the country, newsroom staff had less and less insight into the situation on the ground. Some Afghan employees feared that Taliban troops would visit door-to-door and threaten or kidnap journalists known to have worked in American retail stores.
The US military had secured part of Kabul International Airport, just a few kilometers from the center of Kabul, but getting there and accessing the terminal became nearly impossible. On Sunday, a group of more than 200 people involved in three treatises, including employees and their relatives, traveled to the airport tarmac in hopes of contact with the U.S. military, according to three people who outlined the event. .. Anonymity to explain delicate discussions.
Instead, they found a scene of massive turmoil in which hundreds of other panicked Afghans sought evacuation. The situation became more dangerous when the Taliban troops arrived. People said the members of the group had no clear idea of ??what would happen next and remained dehydrated, hungry, and depressed.
Returning to New York and Washington, newspaper leaders contacted diplomatic officials in the country where the embassy is located in Afghanistan, chasing employees' safe harbors and leads that could lead to transportation.
"There were many plans and efforts that failed or collapsed," said Michael Slackman, Assistant Managing Editor at Times International. "You will plan at night, and after two hours the situation on the ground will have changed."
Former Secretary of State Hillary Clinton is an Afghan employee on a charter flight that her team was trying to arrange to help an Afghan woman at risk, according to three people who outlined the talks. One option emerged when I offered a few seats to the staff. The employee was not supposed to fly.
On Tuesday, 13 people from the Washington Post, including two Afghan employees and their families and US correspondents, went to Qatar with the help of "many people coordinating in different ways." I was able to leave for a military transport plane. To spokeswoman Christine Collatti Kelly. The Post's publisher, Fred Ryan, sent an email to Jake Sullivan, a US national security adviser, for help.
Three correspondents from the Wall Street Journal had left the country by Tuesday, and the newspaper continued to work on the evacuation of dozens of Afghan employees. "There is positive progress and our colleagues are heading for a safe passage," a spokeswoman said Thursday.
"We need to share more soon," said spokesman Colleen Schwartz.
A breakthrough for a group of 128 people from the Times came when the Qatar government, a country associated with both Afghanistan and the United States, agreed to support. Qatar is home to US military bases. There is also an embassy in Kabul, which is associated with Taliban leaders.
AGSulzberger, publisher of The New York Times, said the company was "deeply grateful" to the Qatar government and "it was invaluable in ensuring the safety of Afghan colleagues and their families." increase.
"We also thank the many senior U.S. government officials for their personal interest in the plight of our colleagues and the Kabul soldiers who helped them leave the country," Sulzberger said. Said in a statement. "We urge the international community to continue working for many brave Afghan journalists who are still at risk in the country."
The press continues to focus on helping Afghans whose employment dates back decades in some cases. Some people are trapped in cities other than Kabul and cannot move to the airport or pass the Taliban checkpoint. Kabul Airport is flooded with Afghan waves seeking international flights, with Taliban troops blocking various entrances.
Throughout Thursday night, Times employees and their relatives made another attempt to reach the airport. According to the three briefed about the event, the Taliban checkpoint was initially flooded with crowds and guards, but the group eventually found an open door.
The group was backed by Times Foreign Correspondents Mujib Mashal and Thomas Gibbons Neff. Former Marine Neff initially left Kabul in an early round of American refugees. However, he later returned to Kabul on a military plane, staying on the wings of a US-occupied airport and advising his Afghan colleagues when and how to approach them.
"Both Washington and Kabul State Department officials are in constant 24-hour contact with US-based media organizations on efforts to keep reporters, employees and affiliates safe," the State Department said in a statement Thursday. I have. " .. "It is our priority and welcomes today's news."
The next step for the press is unclear. For the remaining English-speaking correspondents in Kabul, covering the story that is still unfolding is becoming more dangerous.
On Thursday, Los Angeles Times photojournalist Marcus Yam and another American news photographer were beaten by a Tullivan fighter who claimed to erase the images taken from the camera. Photographers were detained for 20 minutes until English-speaking fighters realized they were working for the Western media and released them.
Instead of armored cars, some broadcast journalists now rely on unmarked taxis. It is better to avoid scrutiny and unnecessary attention. After the Taliban came to power, CNN's Clarissa Ward turned into a full-length Abaya to continue talking to Afghans on the streets. Roxana Saberi of CBS News switched to Zoom when it became difficult to conduct free interviews in public.
Deborah Rayner, senior vice president of international coverage at CNN, said mobile phone services are unreliable, but some correspondents are trying to avoid using satellite phones.
John Lippmann, Deputy Programming Director for Voice of America, said: "If necessary, we will cover Afghanistan from outside Afghanistan."
Reporting remotely may be better than not reporting at all, but the press crackdown on the Taliban may prevent the world from knowing what is happening in the country. I am concerned.
"We cannot replace the local knowledge of Afghan journalists," Joel Simon, Executive Director of the Committee to Protect Journalists, said in a statement.
A news agency has increased its staff in Afghanistan. Al Jazeera is a Qatar-based media and television network.
Its editor-in-chief, Mohammed Moawad, said this week that his correspondents could travel in Afghanistan with almost no restrictions and sent more reporters, including travelers from Doha and neighboring countries. A veteran Afghan correspondent helped the network secure exclusive footage of the Taliban, which controls the presidential residence.
"Now, focusing on Afghanistan is very important to the people of Afghanistan and to make the Taliban accountable for their commitment they put on the table," he said. rice field.
However, Moawad expressed concern that global coverage of Afghanistan could diminish as the situation worsens and foreign journalists and their Afghan colleagues feel no longer safe. "We need to make sure that coverage continues," he said.