HMC opens new laboratory for Covid-19 testing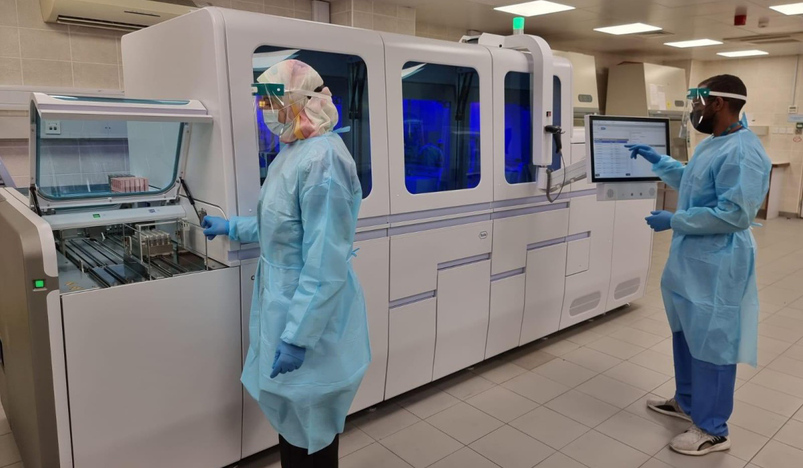 Hamad Medical Corporation
Hamad Medical Corporation's Department of Laboratory Medicine and Pathology on Sunday opened a new laboratory which will increase capacity for COVID-19 testing and ensure test results are processed rapidly.
The new laboratory, located in Hamad General Hospital, is HMC's fourth laboratory for COVID-19 testing and has capacity to process 5,000 to 6,000 tests a day.
"Since the start of the pandemic our laboratories have processed more than 3.2 million COVID-19 tests. Our proactive testing and tracing policy has enabled us to rapidly identify positive cases and ensure they are provided with the medical care they need at an early stage, before their symptoms worsen. This has been central to Qatar's comprehensive COVID-19 strategy which has enabled the country to have one of the lowest COVID-19 mortality rates in the world," said Dr Einas Al Kuwari, Chair of HMC's Department of Laboratory Medicine and Pathology.
As demand for testing increased at the start of the pandemic in 2020, HMC's Department of Laboratory Medicine and Pathology acted swiftly to boost capacity including the opening of two additional laboratories at HMC in June 2020 - which enabled it to regularly deliver around 30,000 tests per day.
"In recent weeks, like many countries around the world, we have experienced unprecedented demand for COVID-19 testing, due to the increase in cases driven by the highly contagious Omicron variant, in addition to the large number of travelers returning to Qatar in early January. Our laboratory teams have been working 24-hours-a-day, 7 days a week, to process a record number of tests, reaching a peak of nearly 40,000 tests a day," explained Dr. Al Kuwari.
"Thanks to the extraordinary efforts of our laboratory teams, a set of pro-active testing policy changes by the Ministry of Public Health, and the opening of the new laboratory, we are now consistently achieving fast turnaround times for PCR tests, despite the continued high daily testing rate, and are well positioned to manage any potential future increase in demand," she added.