HH the Amir, UK Prime Minister, Discuss Strategic Bilateral Relations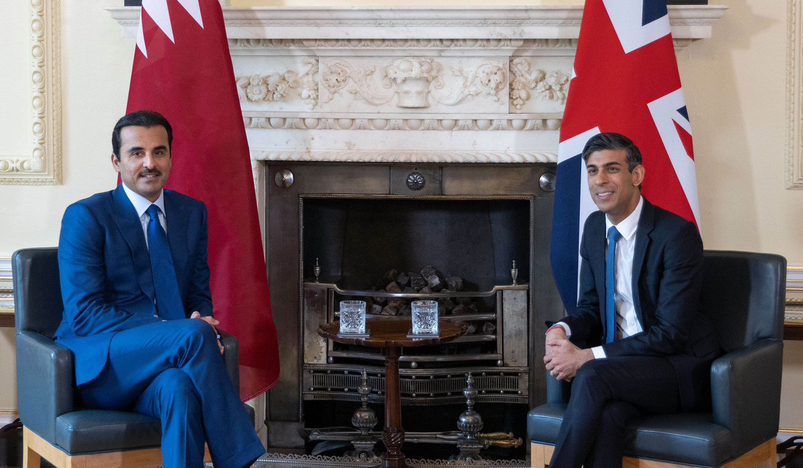 HH the Amir Sheikh Tamim bin Hamad Al-Thani
HH the Amir Sheikh Tamim bin Hamad Al-Thani discussed with HE Prime Minister of the United Kingdom Rishi Sunak the strategic bilateral relations and the means to enhance them in different fields.
The discussions dealt with, which took place at the Prime Minister's headquarters at 10 Downing Street in London the capital, dealt with a number of regional and international developments, in addition to discussing the friendship and cooperation relations between the two countries, and ways to enhance them, in addition to exchanging views on a number of issues of joint interest.
At the beginning of the talks, the UK Prime Minister welcomed HH the Amir at the Prime Minister's headquarters, expressing his pride in the great partnership between the two countries in various fields, especially with regard to regional security and cooperation in the field of defense. The UK Prime Minister also affirmed that the talks with HH the Amir constituted a good opportunity to discuss the economic partnership between the two countries.
For his part, HH the Amir expressed his happiness at visiting the friendly United Kingdom to participate in the coronation ceremonies of His Majesty King Charles III, wishing His Majesty and the British people a joyful celebration of this coronation.
HH the Amir affirmed the strong partnership between the two countries, expressing his thanks to the UK government for its great cooperation during Qatar's hosting of the 2022 FIFA World Cup Qatar.
HH the Amir also expressed his pride with the level of partnership between the two countries and bilateral relations, and the joint success at all levels.
HH the Amir highlighted the strategic dialogue that will take place between the two countries this year, during which issues of security, energy and economic partnership will be discussed. His Highness pointed out that the trade exchange between the two countries last year amounted to about 13.5 billion pounds sterling, which is witnessing a steady increase annually, in view of the investments of The State of Qatar is in the United Kingdom, where His Highness expressed his aspiration to continue working in this regard.
HE Chief of the Amiri Diwan Sheikh Saoud Bin Abdulrahman Al-Thani, HE Ambassador of the State of Qatar to the United Kingdom Fahad bin Mohammed Al Attiyah attended the meeting, while on the UK side it was attended by Military Adviser to UK Prime Minister Jimmy Norman, Political Affairs Adviser to UK Prime Minister John Bew, National Security Adviser to UK Prime Minister Tim Barrow, and a number of ranking officials.
(QNA)