HH the Amir Meets Team Qatar Champions at Tokyo 2020 Olympics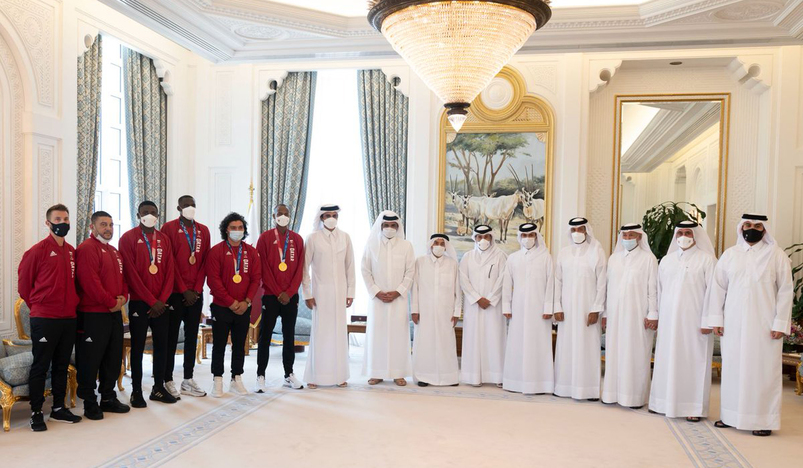 Qatar's Amir met at the Amiri Diwan on Thursday morning with Team Qatar
QNA
HH the Amir Sheikh Tamim bin Hamad Al-Thani met at the Amiri Diwan on Thursday morning with Team Qatar Olympic mission (Al-Adaam), which was crowned two gold medals in high jump and weightlifting and a bronze medal in beach volleyball at Tokyo 2020 Olympics.
At the beginning of the meeting, HH the Amir congratulated Qatar Olympic team champions and the administrative and technical bodies in the results achieved by Qatar's heroes in the Olympics, and stressed on the need to complete the march towards more sports achievements and championships in the future.
HH the Amir also granted Olympic champion Mutaz Barshim Al Wajbah Decoration, in recognition of his historic achievement by winning three consecutive medals in his Olympic participation and his distinguished representation of Qatari sport.
For their part, team Qatar champions (Al-Adaam) expressed their thanks to HH the Amir for the special care and full support that HH accords to Qatari athletes. They also considered honoring of the Olympic champion Mutaz Barshim as an honor for all the athletes in Qatar and affirmed their keenness to achieve more future achievements and raise the flag of the country in international sports forums.