HH the Amir, King of Jordan Hold Official Talks Session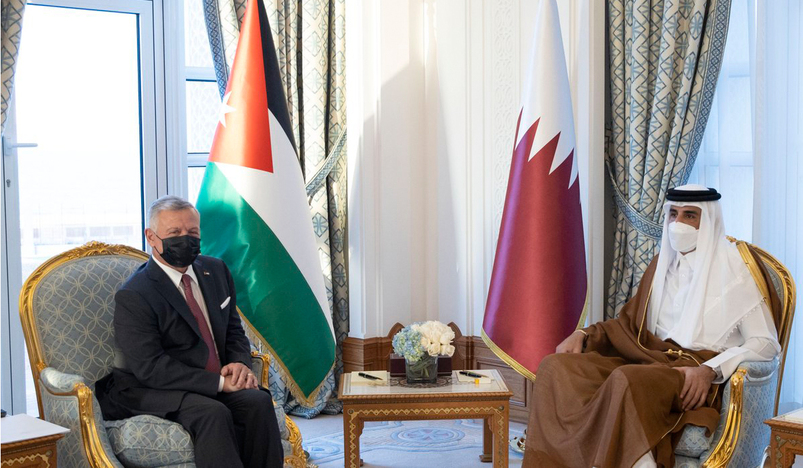 Qatar Amir with Jordan King Abdullah
HH the Amir Sheikh Tamim bin Hamad Al-Thani held with HM King Abdullah II bin Hussein of the Hashemite Kingdom of Jordan an official talks session at the Amiri Diwan on Tuesday.
At the outset, HH the Amir welcomed HM the King and the accompanying delegation, and wished him a good stay and for bilateral ties further growth and development in all fields.
For his part, HM the King expressed his thanks to HH the Amir for the good reception and hospitality, saying he looks forward to enhancing bilateral ties and cooperation to realize joint aspirations and benefit the interests of the two countries and peoples.
The session dealt with reviewing bilateral relations and the means to enhance them, particularly in political, economic, investment, developmental, and cultural fields.
The session was attended by HE the Prime Minister and Minister of Interior Sheikh Khalid bin Khalifa bin Abdulaziz Al-Thani, and a number of Their Excellencies the ministers.
On the Jordanian side, it was attended by HRH Prince Ali bin Hussein, HE the Prime Minister Dr. Bisher Al Khasawneh, and a number of Their Excellencies members of the official delegation accompanying HM the King.
HH the Amir and HM the King also held a bilateral meeting, where they exchanged views on a number of regional and international issues and current developments.
HM the King arrived to the Amiri Diwan earlier today, where His Majesty was met with an official reception ceremony.
SOURCE: QNA