HH The Amir, HH The Father Amir Perform Eid Al Fitr Prayer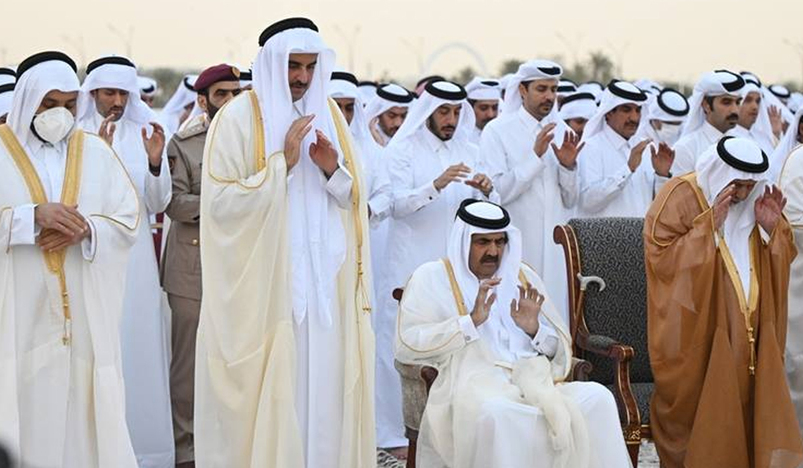 HH The Amir and HH The Father Amir
HH The Amir Sheikh Tamim bin Hamad Al-Thani performed Eid Al Fitr prayers along with citizens at Al Wajba praying area this morning.
HH The Father Amir Sheikh Hamad bin Khalifa Al-Thani also performed the Eid prayers.
The prayers were also performed by HH Personal Representative of HH the Amir Sheikh Jassim bin Hamad Al-Thani, HH Sheikh Abdullah bin Khalifa Al-Thani, HE the Prime Minister and Minister of Interior Sheikh Khalid bin Khalifa bin Abdulaziz Al-Thani, HE Speaker of the Shura Council Hassan bin Abdullah Al Ghanem, a number of their Excellencies sheikhs, members of the Shura Council, and a number of their Excellencies ambassadors and heads Diplomatic missions in the country.
Sheikh Dr. Thaqeel Sayer Al Shammari, who is a judge at the Court of Cassation and a member of the Supreme Judicial Council, delivered the Eid sermon in which he said that the purpose of fasting is to ensure piety and complete slavery to Allah. He said that the greatness of a believer is in the ability to moderate rather than to go to an extreme. He also said that Eid is an occasion that believers celebrate after completing their fasting, calling on the prayers to stay in touch with their families and pray for the unity of the Islamic Ummah.
Source: QNA