HH Sheikha Moza Attends Opening Ceremony of Dreesha Performing Arts Festival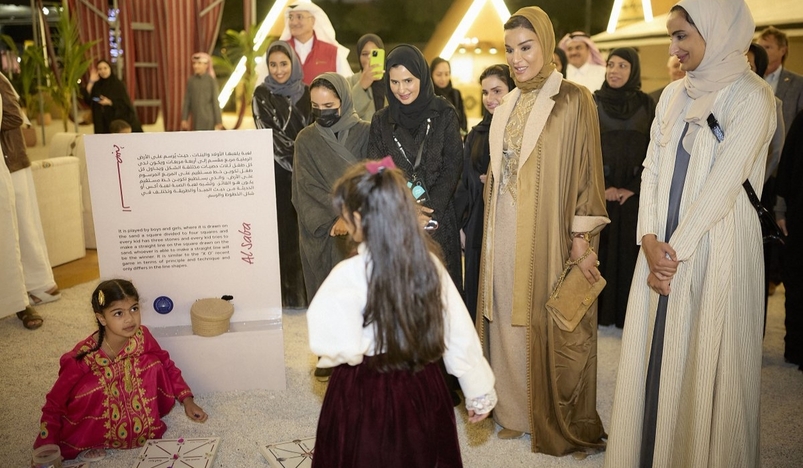 HH Sheikha Moza Attending the Opening Ceremony of Dreesha Performing Arts Festival
HH Sheikha Moza bint Nasser, the Chairperson of Qatar Foundation, attended the opening ceremony of the second edition of Qatar Foundations Dreesha Performing Arts Festival at the Education City's Oxygen Park on Sunday.
The opening ceremony was also attended by HE Vice Chairperson and CEO of Qatar Foundation Sheikha Hind bint Hamad Al-Thani, and a number of Their Excellencies Sheikhs and ministers.
The seven-day festival, which is being held during the FIFA World Cup Qatar 2022, will celebrate Arab culture and heritage through a range of unique performances, educational workshops, and fun activities that can be enjoyed by people of all ages and interests.
The event began with a concert by Qatar Philharmonic Orchestra that took visitors on a cultural journey exploring the countrys past, present, and future.
Meanwhile, Ajyal Tunes - presented by Doha Film Institute (DFI) - featured musical performances by a variety of Qatar-based talent. During the festival, DFI will also host its popular Made in Qatar program.
Highlights at this years festival include a brand-new area dedicated to science and research, titled Dreesha of Invention - sponsored by ConocoPhillips Qatar - and cultural activities at Al Khater House, including artists presenting poems about Palestine, as well as an art zone with music workshops.
The Dreesha Performing Arts Festival is being held in collaboration with principal partners ConocoPhillips Qatar and the Social & Sport Contribution Fund. Strategic partners are the Ministry of Culture, the Ministry of Social Development and Family, Doha Film Institute, Torba Farmers Market, Woqod, and Dukhan Bank.
(QNA)