Her Highness Opens World Innovation Summit for Education 2021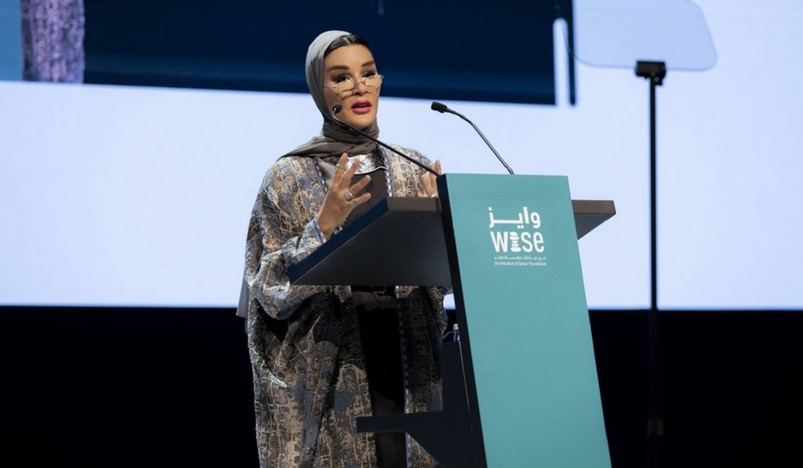 Her Highness Opens World Innovation Summit for Education 2021
Chairperson of Qatar Foundation (QF) Her Highness Sheikha Moza bint Nasser participated at the opening session of the World Innovation Summit for Education (WISE) 2021, which was held both physically at the Qatar National Convention Center and virtually for more than 10,000 participants worldwide under the theme "Generation Unmute: Reclaiming our Future Through Education."
In her opening speech, Her Highness stressed the importance of empowering youth with quality education, saying "From the primary stage of basic education, curricula must be created to mould individuals and build a generation that is armed with knowledge and expertise, to allow them to participate in decision-making and contribute to solving global challenges. Indeed, our journey in establishing Qatar Foundation was founded on this belief."
Her Highness also highlighted the shifting meaning of wisdom nowadays, saying "In our religious texts, wisdom means knowledge But popular culture conflates wisdom with age That is no longer the case. Even early in their lives, opportunities are open for youth to access wisdom through the different forms of knowledge available to them through quality education, books, scientific and digital platforms online."
"Listening to young people and recognizing their indispensable role in decision-making is no longer a choice; it is an imperative," she concluded as she called on the summit participants to create a space for young people to be heard.
Her Highness also presented the 2021 WISE Prize for Education to Wendy Kopp, Co-Founder and CEO of Teach for All. Through Teach for All, Kopp is recognized for developing the concept that meaningful, sustainable education changes need leaders who are rooted in their communities and believe in the potential to transform them to deliver the opportunities all children deserve.
Soure: QNA