Her Highness Attends Panel Discussion on Healthcare for Migrant Workforce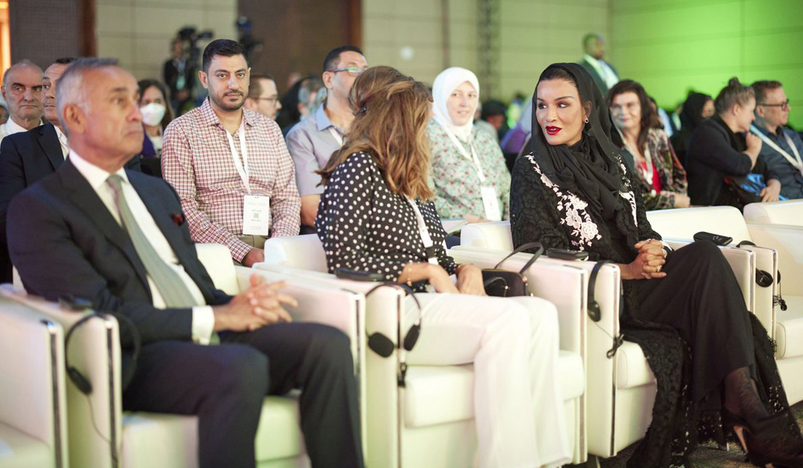 HH Sheikha Moza bint Nasser
Chairperson of Qatar Foundation HH Sheikha Moza bint Nasser attended a high-level panel to discuss the content of a report titled "promoting health and wellbeing among the migrant workforce," held on the second day of WISH 2022.
The session dealt with several important issues that affect migrant workers were discussed, including wages, access to health care, mental health, empowerment of the labor workforce, and the role of strict law enforcement to safeguard the rights of workers.
General Secretary of the International Trade Union Confederation Sharan Leslie Burrow commended Qatar on the leaps it has taken in reforming its laws to protect workers supporting the countrys rapid development.
"There has been a commendable turnaround in the country. For example, the countrys heat stress law is an excellent one, and actually Qatar is now assisting other nations in Europe, who previously didnt have heat stress but are now facing it due to climate change," she said.
Speaking on the progress Qatar has made in the last decade, Burrow said: "There is a now and there is a before Qatar, there is a huge difference between the two. I absolutely pay tribute to the progress made by the country. If we could move as fast in other countries, as a union leader, I would be delighted." For his part, the Supreme Committee for Delivery & Legacys (SC) Executive Director of the Workers Welfare Department Mahmoud Qutub highlighted that evidence-based preventative measures is a topic that the SC has studied extensively over the past few years.
"The SC launched a unique study with Weill Cornell Medicine, where we carried out comprehensive medical assessments of around 1,000 workers. The results showed that the workers had a wider variety of health conditions such as diabetes, hypertension, cardiac issues, high cholesterol, and so on." Following that study, the SC decided to mandate comprehensive medical examinations for all workers working on the World Cup project.
"We updated our policy and standards which are the blueprint that govern how companies work with us. And we introduced comprehensive medical examinations as a requirement to working with the SC. Because of the updated standards, we've effectively carried out over 43,000 individual comprehensive medical examinations," he added.
(QNA)