HEC Paris in Qatar Unveils Hologram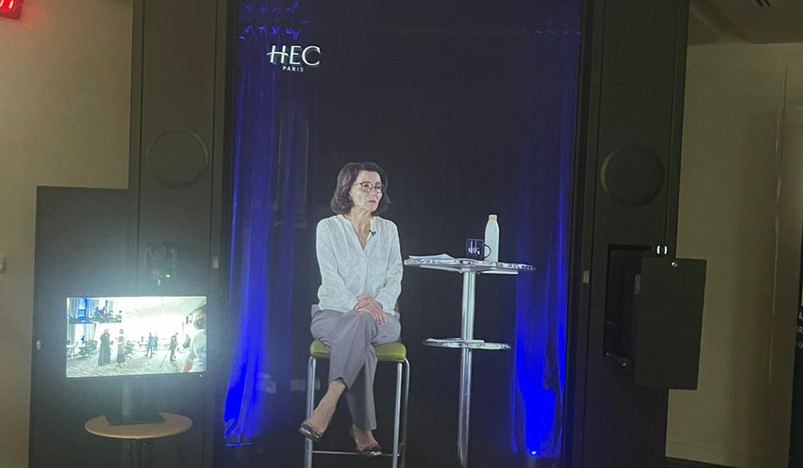 HEC Paris in Qatar Unveils Hologram
As HEC Paris in Qatar officially opened its new building in Msheireb Downtown District, it organized a live panel discussion that featured cutting edge hologram technology.
The panel, which addressed the topic of Corporate Innovation, included three locally-based panelists and one panelist participating live from the HEC Paris campus in France. This was the first use of the newly installed equipment, which creates a direct link between the campuses of HEC Paris in France and Qatar.
Moderated by HEC Paris Professor Anne-Valery Corboz, panelists included Guillaume Lafage, Managing Director of Atos Qatar, Yousef Al Jaber, VP of Innovation and Change Management of TotalEnergies Qatar and Abeer Al Hammadi, Director of Innovation, Qatar Foundation IDKT Office.
Professor Sihem Jouini, who participated on the panel through the hologram technology, said "This tool allowed me to not only participate in this panel, but to demonstrate how technology can be used to connect people and help share ideas across the globe. I teach innovation, but today I felt like I was innovating."
The equipment was produced and installed by ARHT, a Canadian-based company who has been a pioneer in the field of holographic telepresence since 2014. Mr. Larry O'Reilly, CEO of ARHT, was present for the unveiling. "HEC Paris, global leader in business education, will now be able to utilize faculty for both core curriculum, as well as guest speakers and special event, whether they are in France or Qatar. The first of its kind in the Middle East and France, HEC Paris joins a growing list of universities globally that now have the ability to network with one another for impactful education without the need for air travel.  Over time this will save the universities money and assist in their efforts to reduce carbon emissions. This panel discussion is a perfect example of using HoloPresence™ technology to bring participants to an important event without having to fly to get there."
Dean of HEC Paris in Qatar, Dr. Pablo Martin de Holan, who opened the session, commented that "…this technology will allow us to reduce our carbon impact while enhancing the quality of our content. We can now "bring" to the classroom people from distant locations in ways that were ecologically damaging or just not economical before. It provides a high level of interaction that blends seamlessly into the classroom experience for students and Faculty, and so intuitive that the adoption is straightforward. We will continue to leverage this innovative technology to bring continually the best content in the world to our programs, and we are fully deploying it for our pedagogical needs: for HEC Paris, this technology is not a curiosity, it is our way to prepare our students for the digital world that comes."
With more than 10 years presence in Qatar, HEC Paris is committed to integrating new tools and methodology into its teaching in order to improve learning outcomes and ensure greater impact of its teaching mission within the business community.
Source: Press Release