HEC Paris in Qatar partners with QFCA to develop talent and leadership in Qatar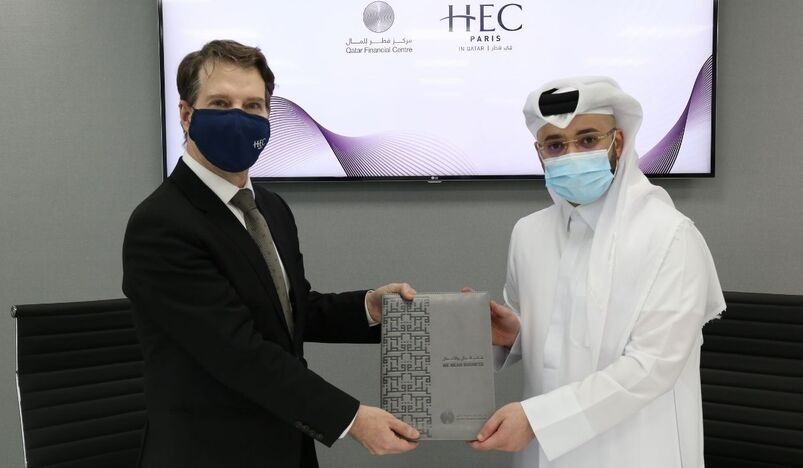 HEC Paris in Qatar partners with Qatar Financial Centre Authority
In an effort to create leaders who drive performance, HEC Paris, ranked #1 in the Financial Times European Business Schools Rankings, has entered into a corporate partnership with Qatar Financial Centre Authority (QFCA) to support the creation of a vibrant and efficient business ecosystem in Qatar.
 The two entities have signed a Memorandum of Understanding (MoU), which will see HEC Paris in Qatar share its expertise and initiate activities to support QFCA's development strategy including master classes, round table discussions and webinars and leadership development initiatives. The leading business school will also look to showcase its thought leadership through research and publications focused on topics aligned to QFCA's areas of influence.
The MoU will also allow HEC Paris to offer preferential tuition fees for employees under QFCA enrolled in its degree programs in Qatar including its Executive MBA (EMBA) and its Specialized Master's in Strategic Business Unit Management (SBUM).
Providing his full support to the partnership with QFCA, Dr. Pablo Martin de Holan, Dean of HEC Paris in Qatar, said: "We are proud to develop high potential men and women who will benefit from HEC Paris' rich and diverse learning environment, helping them be more effective in their roles throughout their careers. This MoU demonstrates our commitment to support Qatar´s development in line with Vision 2030, to create a knowledge-based economy and develop the leaders of tomorrow. The partnership with QFCA emphasizes their trust in our leadership development programs, and demonstrates our desire to collaborate with firms and organizations similarly committed to the development of leaders who will shape the world of tomorrow."
 Nasser Al-Taweel, Deputy CEO, Chief Legal Officer, and Board Secretary of QFCA, said: "This MoU demonstrates QFCA's commitment to investing in the development of local talent, recognizing that human capital is one of the most important assets of Qatar and a necessary foundation in supporting the advancement of Qatar National Vision 2030 and the development of a knowledge-based economy."
"We are grateful for the vote of confidence these major organizations are placing in HEC Paris in Qatar by entrusting us to help train and develop their mid and senior-level executives to deliver impact, excellence and relevance. These are organizations that are at the heart of regional and economic transformation and are developing socially aware business talent, managers and leaders who can meet current and future societal and environmental challenges. We greatly value the opportunity to assist the transformational programs as we partner with the public and private sectors in achieving the nation's 2030 goals," said Joshua Kobb, Executive Director, Partnerships & Growth for HEC Paris in Qatar.
 Sarah Al-Dorani, Chief Communications Officer of QFCA, said: "Continuous learning and development is at the core of QFCA's mandate in upskilling our employees as well as members of the wider business landscape in Qatar. Our partnership with HEC Paris will advance our mission to train future business leaders and professionals who will effectively advance Qatar's economic diversification program, which QFCA fully supports. As we continue to build bridges between academia and industry, this partnership is yet another initiative that will play a key role in transforming knowledge into action."