HBKU Signs MoU to Collaborate with Qatar Amiri Naval Forces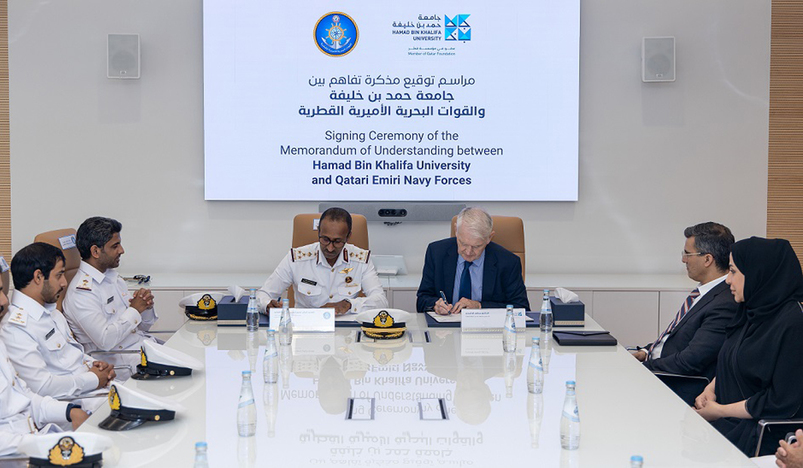 HBKU and the Qatar Amiri Naval Forces
Hamad Bin Khalifa University (HBKU) and the Qatar Amiri Naval Forces have signed a Memorandum of Understanding (MoU) to join forces in areas of research and development, and promote cooperation in the fields of marine sciences and water research.
The three-year partnership brings together both entities to synergize their shared vision and aim of helping Qatar achieve its national objectives.
The agreement was signed by Project Team Leader for the Office of Water Sciences at Qatar Amiri Naval Forces Brig. Gen. Mohammed Dasmal Al Kuwari, and Vice President for Research at HBKU Dr. Richard O' Kennedy.
Along with the joint research and development activities, this partnership also has an added focus on capacity building. As part of this, dedicated initiatives will be launched to provide specialized courses, workshops, and field training that leverage the expertise of specialists from the Qatari Emiri Naval Forces and HBKU.
Commenting on the MoU, Brig. Gen. Mohammed Dasmal Al Kuwari, said: "Our partnership with HBKU is positioned to enable innovative research in marine and water sciences within Qatar, which will have a lasting impact on our joint strategic objectives. Along with HBKU, we are committed to advancing research and development in these areas and building critical human capital to ensure such efforts are scaled to new heights."
Stressing the significance of the collaboration, Dr. Richard O'Kennedy said: "HBKU is delighted to partner with the Qatari Emiri Naval Forces. Protection of our environment, water resources, and biological diversity are outlined as national priorities in the Qatar National Vision 2030 and this collaboration is a significant step towards bolstering efforts to ensure their protection and conservation." 
(QNA)