Hayya Fan Zone to Feature "Swan Lake: Classical Ballet on Ice"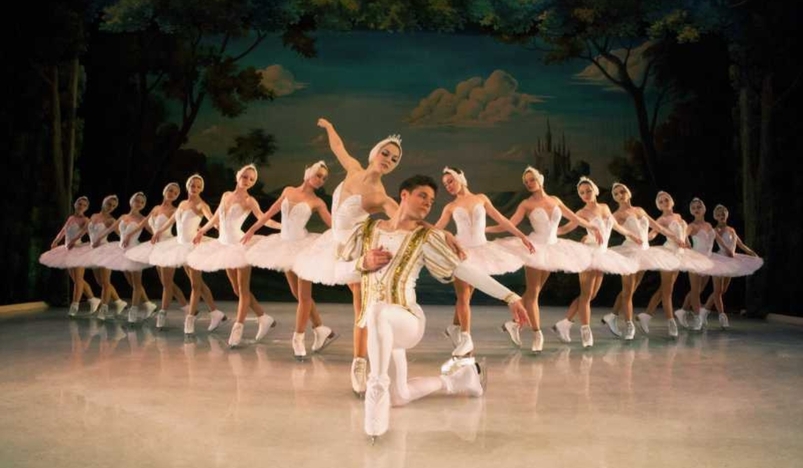 Swan Lake: Classical Ballet on Ice
A rendition of Tchaikovsky's spectacular masterpiece- Swan Lake will be one of the main events in the Hayya Fan Zone at Lusail South Promenade in the form of a classical ballet performance on ice.
Widely renowned as one of the most beautiful ballet pieces, Swan Lake was fashioned from German folk tales and tells the story of a princess turned into a swan by an evil sorcerer's curse. 
It was composed by Pyotr Ilyich Tchaikovsky in 1875–76 and over 100 years later it remains a favorite with ballet companies regularly performing it throughout the world. Tchaikovsky's score is noted for its shining melodies, expressive leitmotifs, and plentiful use of the ballet's namesake instruments, the swan's-neck fiddles. Swan Lake is one of the most enduring ballets of all time, and its original production by the Bolshoi Theatre is considered by many to be a reference production.
The ballet tells the story of lovers Prince Siegfried and Princess Odette, who are turned into swans by a sorcerer. Siegfried must find true love to break the spell, and he eventually does, but not before the evil sorcerer causes much havoc. While Swan Lake is a tragic story, ending with the death of all four characters, it is also a beautiful and romantic ballet, with some of the most iconic musical tracks.
THE 4 ACTS:
Act I
The curtain rises on a moonlit lake where swans are gliding gracefully. Prince Siegfried is out hunting with his friends, but he is restless and bored with the hunt. His mother, the Queen, tells him that he must marry soon and suggests that he go out that evening and shoot a swan.
Siegfried goes to the lake, where he sees a group of swans. He takes aim, but just as he is about to fire, one of the swans begins to transform into a beautiful woman. She is Odette, the Queen of the Swans.
Odette tells Siegfried her story. She and her friends were once human maidens, but they were transformed into swans by an evil sorcerer, Von Rothbart. They can only regain their human form if a man declares his true love for them and promises to marry them.
Siegfried is immediately smitten with Odette and declares his love for her. However, he is unaware that Von Rothbart is watching them and that he has other plans for the young prince.
Act II
The second act takes place at Von Rothbart's castle. Siegfried has come to ask for Odette's hand in marriage, but Von Rothbart tells him that he will only give his blessing if Siegfried can defeat him in a battle.
Siegfried agrees and the two men begin to fight. However, Von Rothbart is too powerful and Siegfried is soon defeated. As a result, Von Rothbart agrees to let Siegfried marry Odette, but only if he can break the spell that prevents her from regaining her human form.
The two men return to the lake, where Von Rothbart tells Siegfried that he must kill Odette if he ever wants to see her in her human form again.
Siegfried is horrified and refuses to do it. Von Rothbart then casts a spell on Odette, turning her into a swan once again.
Act III
The third act takes place at a ball at Von Rothbart's castle. Siegfried is attending the ball with his fiancée, Odile, who is actually Von Rothbart's daughter.
Odile is a perfect copy of Odette, but Siegfried does not realize it. He dances with her and declares his love for her.
However, when he sees Odette in the distance, he realizes that he has been tricked. He breaks off his engagement to Odile and runs to Odette.
However, it is too late. Von Rothbart has succeeded in breaking the spell and Odette is turned into a swan forever.
Act IV
The fourth and final act takes place back at the lake. Siegfried has come to say goodbye to Odette, knowing that he will never see her again.
The two lovers say their final farewells and then Siegfried kills himself. Odette dies in his arms and the two lovers are reunited in death.
Location: Hayya Fan Zone, Lusail South Promenade
Dates: Nov 20th - Nov 30th, Dec 11th - Dec 14th
Tickets: Q-Tickets.com