Hamilton takes eighth British win, Verstappen in hospital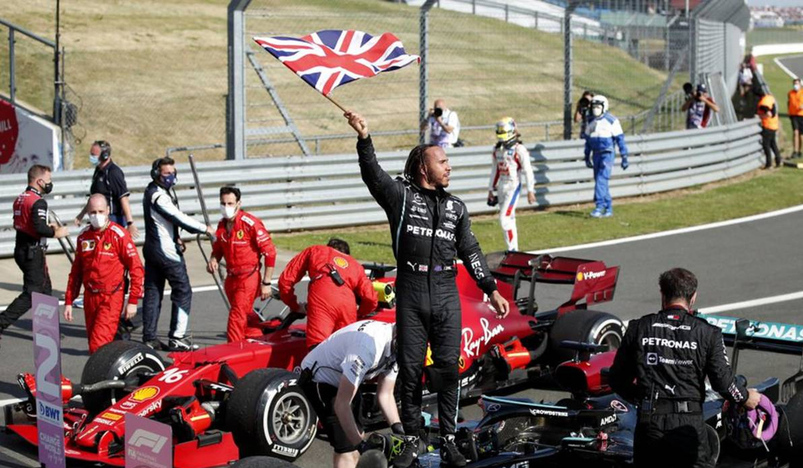 Formula One F1 - British Grand Prix - Silverstone Circuit, Silverstone, Britain - July 18, 2021 Mercedes' Lewis Hamilton celebrates after winning the race
SILVERSTONE, England: Lewis Hamilton won his home British Grand Prix for a record eighth time on Sunday after battling back from a 10-second penalty imposed for a first-lap collision that halted the race and left Red Bull rival Max Verstappen in hospital.
The Mercedes driver, now only eight points behind Verstappen after 10 races, passed Ferrari's Charles Leclerc with two laps to go as a capacity 140,000 crowd rose to cheer him on.
Hamilton's team mate Valtteri Bottas finished third after being told to let Hamilton through to chase Leclerc, who had led from the re-start and was voted driver of the day.
The win was the 99th of seven-times world champion Hamilton's Formula One career, fourth of the current campaign and one of the more controversial in his long list of achievements.
It was also the worst possible result for Verstappen, who had started on pole position with a 33-point lead but failed to complete a lap after suffering the biggest accident of his career when he crashed out at Copse corner.
Hamilton went down the inside, Verstappen moved across and they tangled wheels - the Red Bull's rear right touching the front left of the Mercedes.
The stewards deemed Hamilton was to blame.
Red Bull said Verstappen was battered and bruised and in hospital for further checks. Team boss Christian Horner criticised Hamilton for a mistake he deemed amateur, dangerous and desperate.
Mercedes boss Toto Wolff said, however, that the situation was more nuanced and "it takes two to tango".
A day that was almost a return to pre-pandemic normality, with crowds cheering in the sunshine from packed grandstands, ended with a British winner, a thrilling late chase for victory - and plenty to argue about.
It also lit a fire under the title battle, after previous pleasantries between the two rivals, with the gloves now decidedly off and Red Bull's momentum abruptly halted after five wins in a row.
From being 44 points clear in the constructors' championship, Red Bull are now only four ahead of Mercedes.
The front-running pair are now at daggers drawn with Red Bull accusing Hamilton of dangerous driving and the Briton highlighting Verstappen's aggressive approach.