Hamad International Airport Launches Passenger Digital Assistance Kiosks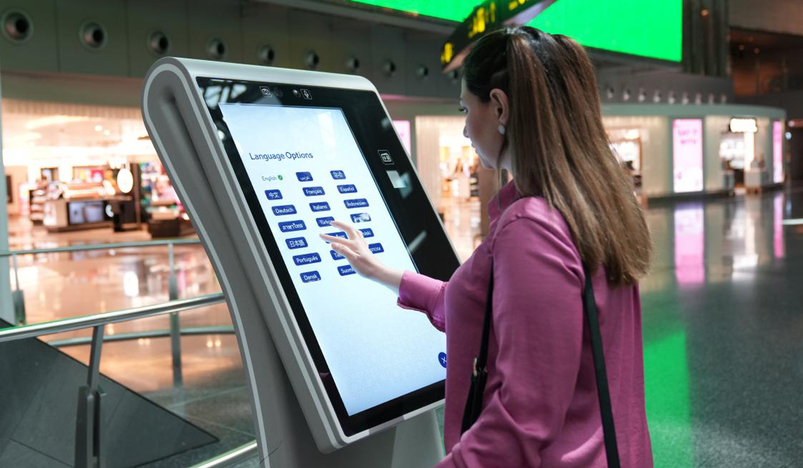 Digital Assistance Kiosks
Hamad International Airport (DOH), in partnership with Atos and Royal Schiphol Group, introduces Passenger Digital Assistance Kiosks to enable seamless journeys for travellers. The kiosks will provide easy access to information, assist in navigation and help passengers through live video calls to customer service agents.
Commenting on the new passenger experience, Senior Vice President of Technology and Innovation at Hamad International Airport Suhail Kadri, said: "The new Passenger Digital Assistance Kiosks are part of our overarching digital strategy to transform passenger experiences. We are committed to investing in the latest technology and innovative solutions; to create the most seamless airport experience for all passengers traveling from and to Hamad International Airport, we are working with industry innovation leaders such as Atos and Royal Schiphol Group." CEO of Middle East and Turkiye at Atos Marc Veelenturf, said: "Together with our strategic partner Schiphol, we are proud to have successfully delivered this solution at Hamad International Airport to improve the digital passenger experience, and to manage passenger flow more effectively especially during the airports critical peak periods." The kiosks provide airport map for wayfinding, information related to flights, airport services, retail and F&B outlets and passenger events at the airport.
Hamad International Airport will continue to add new and strong partnerships to its portfolio with the aim to introduce innovative solutions and advanced technologies, as part of its commitment to being the industry leader, setting the benchmark for the airport industry and expanding beyond traditional solutions, to deliver an exceptionally memorable passenger experience for all travelers.
(QNA)