Gulf Folk Meets the Philharmonic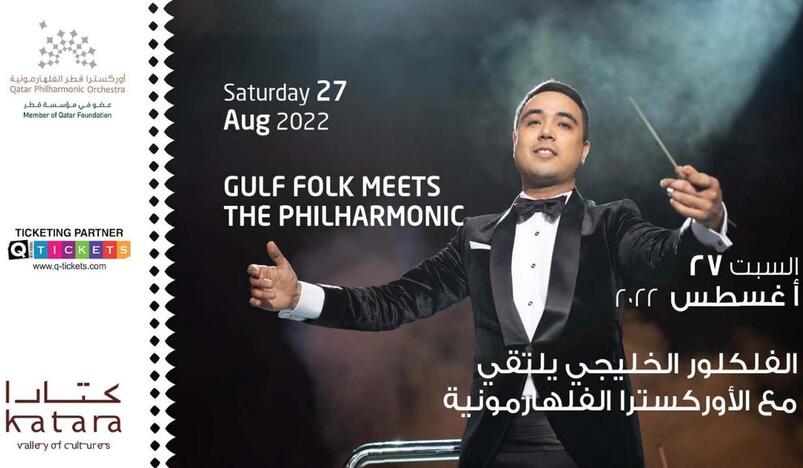 Gulf Folk Meets the Philharmonic at Katara Cultural Village, Katara Opera House!
The Qatar Philharmonic Orchestra presents a unique musical event that aims to enhance and preserve Gulf folk music by intertwining traditional Gulf folk styles with a Western orchestra for the first time.
Gulf Folk Meets the Philharmonic
The music will put particular emphasis on Qatar's rich maritime history with influences from the art of 'Fijiri', a traditional form of music associated with pearl divers and the sea. The Philharmonic's Deputy Executive Director, Nasser Sahim composed the music for the event, with Dr. Amer Jaffar and Mansour Al Mohanadi, a Qatari singer providing vocals for the performance.
The event will include a traditional Gulf percussion group led by Dr. Faisal Ibrahim Al-Tamimi, composer, Qatari director and researcher in arts and Qatari folklore.
The event will begin at 7:30 PM on 27th August 2022. You can book your tickets on q-tickets.com!
Prices start at QR75 for the third balcony, rising up to QR200 for the centre orchestra and first balcony.
Children under six will not be allowed to attend, and all visitors must present a green Ehteraz status on arrival.
These are performances you do not want to miss! Book your seats TODAY!
Ticket Prices: From QR75
Date: Sat Aug 27, 2022
Timings: 7:30 pm onwards
Venue: Katara Opera House, Katara Cultural Village
Ticket Booking: www.q-tickets.com