Guide: Renting Your First Home in Doha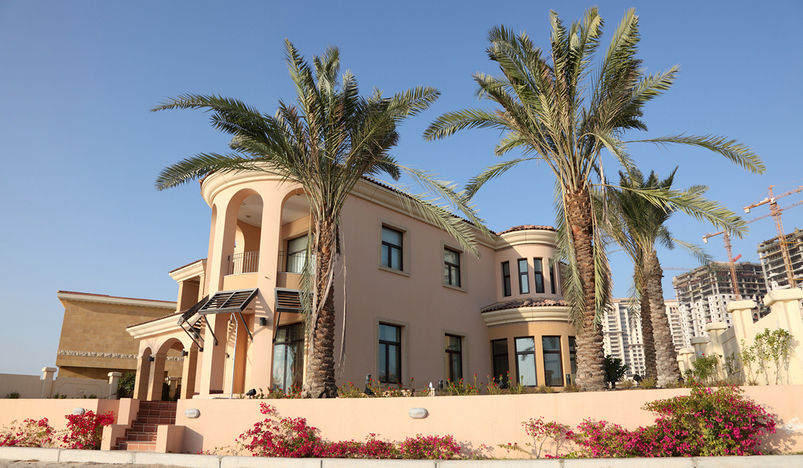 Guide: Renting Your First Home in Doha
Whether you're looking for a villa or an apartment in Doha, things can get pretty confusing fast, especially if you're a new expatriate. Even veteran residents can sometimes in the bureaucracy of it all.
We've put together this handy guide on getting you set on the right track to your dream home, as well as what to look out for. But first, a little background on the housing market in Qatar, how it works, as well as a few considerations for you to keep in mind.
Contracts and post-dated checks
Depending on where you're moving from, the rental system in Qatar may not be that surprising. Simply put, contracts with your landlord (who can be a company or an individual owner – more on that later) are usually one, sometimes two years in duration. Along with a copy of your Qatari ID, and the signed contract, you provide the landlord with post-dated checks with the rental amount when you first move in. In other words, all the landlord has to do is cash in each check every month, but they hold all checks for the duration of your rental agreement invariably giving them the upper hand.
In addition to the monthly rent checks you almost always have to provide a security deposit check (worth one month rent). So if you have a one year rental agreement, you provide the landlord with 13 checks. One for each month of a year plus the security deposit.
Compound vs. Standalone
Another thing to keep in mind when looking at places to live in Doha is that residences here, whether apartments or villas, are either in a residential compound (gated communities often with amenities such as pools, tennis, basketball courts, security, etc.) or, well, standalone, meaning the villa or apartment is un-gated and usually lacks the amenities listed above.
It all depends on what you're looking for. If you have children, amenities are a big plus because even though you will likely pay more for a place in a compound, you save a lot by not having to pay for a club/gym membership. Keep in mind that some compounds have villas and apartments ( e.g. Dar El Sallam Compound), making them suitable for a bigger range of budgets.
Standalone and compound residences both have distinct pros and cons which we've helpfully summarized below.
Compound residences
Advantages
24/7 Security (although honestly, Qatar has one of the lowest crime rates in the world)
Amenities ranging from a small kiddie pool to several pools, tennis courts, basketball, sauna, squash. Some compounds are virtually self-sustaining including small mini-marts
Maintenance – some compounds have 24 hour maintenance personnel on or near the premises. Pretty handy for when your AC bites the dust during the many hot summer nights in Doha
A nice place to walk – maybe not the most jaw-dropping advantage ever but seeing as how Doha as a city is notoriously anti-pedestrian, having a nice enclosed (and thus separated from the maniacal traffic of Qatar) space is a big plus. At least for those 2 weeks of the year when the weather allows for walking outside without the risk of third degree burns.
Disadvantages
Price – depending on the location of the compound, facilities, etc. this may vary wildly. Current prices start at 10,000 QAR for small apartment (e.g. the new Al-Fardan compound next to Dar El Sallam mall) while they can easily go up to above 50,000 QAR a month for the massive, luxurious compounds (see West Bay Lagoon)
Neighbors – lots and lots of neighbors. While this can be viewed by some as an advantage, others who value their privacy and/or are misanthropes would be less inclined to be surrounded by people 24/7
Standalone residences
Advantages
Price – Standalone villas are generally much cheaper than those inside a residential compound considering their lack of facilities. If you have budgetary limits – then standalone residences are a good place to start.
Privacy – this one only really applies to standalone villas. As the name suggests, you don't have any pesky, loud or annoying neighbors that you have to deal with day in and day out.
Disadvantages
Lack of facilities – With a few notable exceptions (mainly apartment buildings in West Bay which have gyms/swimming pools) standalone residences generally do not have any amenities other than shaded parking – which honestly should be a requirement given the heat.
Maintenance – While standalone villas/apartment buildings generally have maintenance they are usually freelancers that are called by the building manager when the need arises. This means that their response time is typically quite long, their professionalism is overall lower, and well, they're simply not as good as a maintenance team that know a compound inside and out.
By now the difference between the compound and standalone residences should be pretty clear – if you have any questions though, be sure to leave them in a comment below.
Next up, we will take a short look at the current state of the housing market in Qatar.
Current state of the housing market (August 2017)
This is proving to be a great year for tenants, not so much for landlords, but hey, we're sure they'll be just fine. Prices across the board have dropped noticeable. This was forecast early this year and attributed to the massive wave of firings that took place in Qatar thanks to the plummeting oil price earlier last year.
According to DTZ-Property, prices have been further affected by the blockade imposed on Qatar by its GCC neighbors (Saudi Arabia, UAE and Bahrain, mainly). If you have some time its worth checking out the full study here (PDF link only).
Essentially, there is a surplus of residences and not enough people to fill them which of course drives the price down. Good news for newcomers to Qatar.
Now on to the good stuff.
Renting your first home in Doha – a step by step guide
Step 1 – Figure out exactly what you want
Are you looking for an apartment or a villa? Interested in compound residences or standalone? Before you do anything you need to have a crystal clear idea about what it is you are looking for. As stated above there is an abundance of residences so zeroing in on what you want will help make the whole process smoother.
So sit down with your wife, your kids, and your dog (if you have any of those) and decided on the type, size (studio, 1-bedroom, 4 bedroom?), and location of your new place. Anything close to the business/city center of Doha will run you a premium. However, moving further away will bring your rent down but your commute time up, depending on where you work of course.
Generally speaking pricey homes are in West Bay, the Pearl, and Al-Waab, while cheaper rents can be found around the Bin Omran, Old Airport and Madinet Khalifa areas.
The important part is to consider all of these requirements before you begin house hunting, to save yourself a lot of grief.
Step 2 –  Check online listings
While Qatar's online presence is severely lacking, especially in the classifieds section (even when comparing it only to its neighbors in Kuwait and Dubai for example where local websites have a very strong presence) there are a few places worth a look when you first start. After all, you're mostly clicking or swiping away on your phone.
When checking any of these listings you may come across residences that have no images of the actual apartment. The realtor uploaded pictures of literally everything BUT the apartment. Massive red flag there. Either the finishing is sub-par or the place is tiny. Best to generally avoid wasting time with such listings.
Property Finder
A regional website that allows you to search for residences according to many criteria, Property Finder is a good place to start your search. Keep in mind that a lot of these places are listed by real estate agents and thus require you to pay the realtor a commission (usually half a month's rent). When in doubt read the description or just give the realtor a call and ask them directly. The listings here are curated by the website and as such are generally high quality. The Property Finder app is also available on iPhone and Android and is decently designed and functional so worth a look.
Qatar Day/Qatar Living Classifieds
Terrible "news" articles aside, the classified section of Qatar Living is a gold mine. From apartments to random articles of clothing to exercise bikes it has it all. Unlike Property Finder, Qatar Living does not have any curation (literally anyone can list any house or object for sale) – so the quality is very hit and miss. They have a great app though available for iPhone and Android devices alike that we suggest you download.
Real Estate agency websites
Of which there are plenty (including one, two, three, and four) too many for us to list them all here but we would caution against Zukhrof real estate and Nelson Park as the professionalism of their agents varies wildly.
Step 3 – Check in with Realtors
If you were not able to find your dream home via the online portals above, the next step is to check out real estate agents.
Most realtors in Doha take a commission from the tenant, which is usually half a month's rent. Unless they are listing their own properties, such is the case with Al-Asmakh Real Estate. As with other industries in the service sector in Doha, professionalism is spotty at best. If you're on a budget, you're likely better off doing the leg work yourself.
Step 4- Talk a walk, or drive, around the area you want to live in
As we mentioned above, Doha has a comparatively weak online presence and so there are many empty residences that are not at all listed online (shocking, given that it is indeed 2017). By walking around and asking the building managers/compound security in the neighborhoods you would like to live in, you can find some real hidden gems as well as save yourself time and money in the long run.
Be warned that some compounds will not allow you to have a look at any vacant houses without speaking to the real estate company managing it. Most security guards at compounds are very nervous about giving out the rental price, but as with all things in life, sweet talking goes a long way.
Step 5 – Visit your prospective new home 
Congratulations! You've found the perfect place. It checks all the boxes. Now you just have to make sure it is as it appears to be. It would be a good idea for you to visit the property at different times of the day to see truly assess how it is before you make a year-long commitment or longer.
Visit the place in the morning to see how much light it really gets. Check it out in the afternoon on weekends to see how noisy it can get. Drop in on the evenings during the week to see if there are any unruly neighbors that will prevent your beauty sleep during the work week.
Step 6 – Check everything
Fantastic. The place held up well to your scrutiny. Now time to check everything about the place:
Make sure all the lights work, and make note of those that don't so that the landlord can fix it before you move in
Check all the ACs. Turn them all on and see how well they cool down the place.
Check that electrical sockets work.
Check the window seals, Doha is a very, very dusty city
Let the water run to see if there are any blocked pipes
If the place checks out, sign that lease!
Words of Caution
Beware of renting from individuals 
Some compounds and residences are owned by individual people. This can prove disadvantageous to you as people are not as organized as a company and are WAY more financially invested in keeping you there. So, should you have a spat with the landlord, he would be a lot less inclined to let you out of your lease earlier as it directly impacts his pocket, as opposed to a corporation that has a reputation to uphold and has an accountant that can make everything look pretty at the end of the fiscal year.
Trust us, don't rent from a person. It's a recipe for disaster.
Good luck and happy apartment hunting!