Global Security Forum Sessions Discuss Security Challenges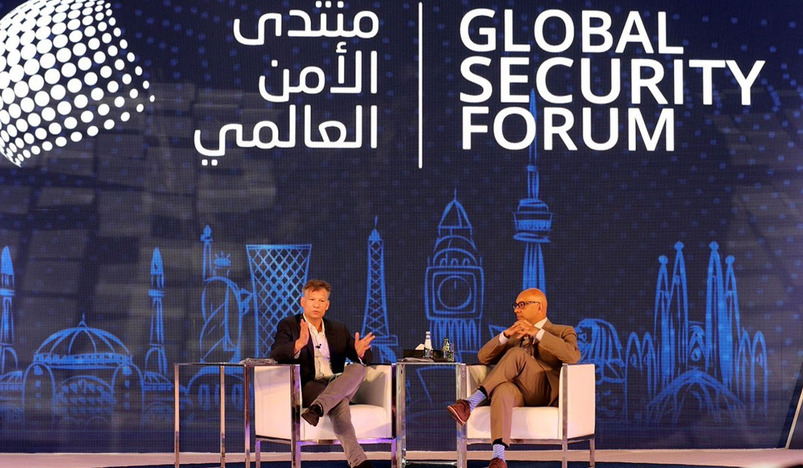 Global Security Forum Sessions Discuss Security Challenges
Sessions of the first day of the Global Security Forum's fourth edition taking place under the theme "Cooperation or Competition? Changing Dynamics of Global Security" discussed a host of important issues and global security challenges, with the participation of local and international official figures, UN representatives, parliament members, officials, security experts, academics and media men.
During a session held under the theme "Afghanistan: Two Decades of Coverage from the Ground", moderated by Ali Velshi, presenter at American MSNBC News, Richard Engel, chief foreign correspondent for NBC News, spoke about his experience on the coverage of the conflict in Afghanistan. In a virtual session held under the title "Protecting the American Homeland from Diverse Security Threats", United States Secretary of Homeland Security Alejandro Mayorkas spoke about the diverse and growing security challenges facing the world and the United States today, and the importance of global cooperation in addressing emerging threats. The session was moderated by Michael Isikoffchief investigative correspondent for Yahoo News.
In a panel discussion on the impact of Covid-19 pandemic on security and diplomacy, speakers touched on the impact of the pandemic on international partnerships, which caused a reallocation of resources and capacities and the increase in local social and economic dynamics that challenged many countries while international actors adapt their international engagement and diplomacy in response to these developments.
During the forum's sessions, security experts discussed the development of the global security landscape. One session dealt with the evolution of the international security landscape over the past year, given the impact of the global pandemic, harsh climate conditions, the increasingly diverse terrorist threats and extremist organizations.
Under the title "Are we ready to deal with the current global terrorist threats?" speakers in a virtual session discussed changes in the terrorism landscape over the past year from the emergence of a more powerful violent extremist right-wing threat across national borders, to terrorist organizations exploitation of local conditions. and difficult regionalism to escalate its behavior, as well as the effects of the Covid-19 pandemic on the landscape.
In another virtual session, experts and specialists discussed the issue of "Transition from Counter-Terrorism to Great Powers Competition: Challenges, Opportunities and Strategic Impact". This session examined the implications of managing competition between major powers and its impact on collective efforts to confront global threats and challenges, and the costs, benefits and potential outcomes. shifts in countries' approach.
In another virtual session, as part of the forums activities, the effects of the Corona pandemic on geopolitics, national strategies and global cooperation, Matthew Pottinger, former United States Deputy National Security Advisor and a visiting fellow at the Hoover Institution, addressed the emergence of the unprecedented global epidemic and its impact on international cooperation, the competition and cooperation of countries to secure preventive equipment and vaccines, the imposition of travel restrictions and the management of preventive measures.
Source: QNA