Generation Amazing Third Annual Festival on December 14th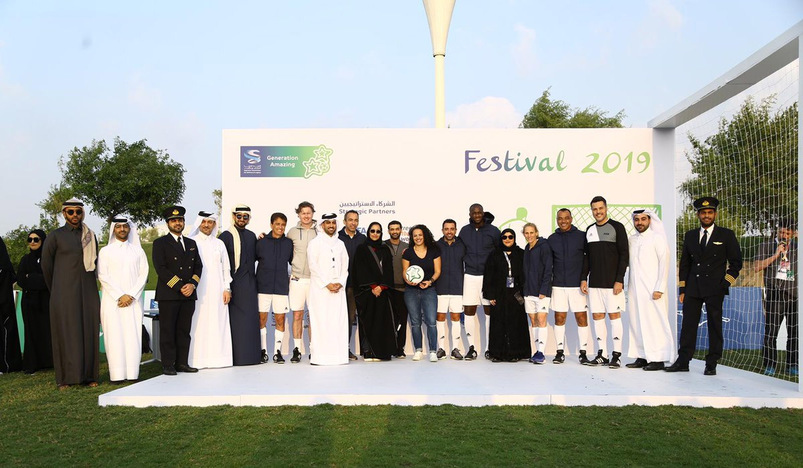 Generation Amazing 2019
Generation Amazing, in collaboration with strategic partners Qatar Foundation (QF), will host the 2021 edition of the Generation Amazing Festival at Education City from Dec.14-18, the event, which will celebrate Arab unity, will bring together youth from all competing nations in the FIFA Arab Cup Qatar 2021 This year's theme is All In, which emphasizes the role every young person has to play in improving their communities.
The festival will outline the achievements of Generation Amazing's journey, the football for development programme has positively impacted more than 725,000 people around the world since its launch in 2010, during the festival, attendees will learn about the social impact of football and how it can be used to transform communities.
The festival will include football for development workshops and details of the recently-announced One Goal Arabia programme, which Generation Amazing launched in collaboration with Aurora for Training and Development, the Asian Football Confederation and the Confederation for African Football key themes will include using football as a tool for development and peace, addressing social challenges, project management and implementation, as well as leadership and advocacy.
The festival will also provide an opportunity for actively engaged youth from Arab countries to discuss community building, sustainable development and social change.
"We are proud to celebrate our third annual Generation Amazing Youth Festival during the FIFA Arab Cup in Qatar, as we highlight the power of football to unite and inspire youth from across the region," said Generation Amazing Programmes Director, Nasser Al Khori, "This year we are delighted to again be partnering with Qatar Foundation, along with a range of our local, regional and global partners, in a series of inspiring workshops and learning opportunities for participating youth. In this way we are showcasing the inspiring potential of football to unite, inspire and bring together youth from across the Arab world."
"We are delighted to be hosting the Generation Amazing Festival, a celebration of sport and the vibrancy of youth that reflects our commitment to inclusivity, fostering healthy lifestyles, and providing opportunities for social interaction, community engagement and fun," said QF's Community Engagement and Activation Director, Alexandra Chalat.
"Qatar Foundation works with Generation Amazing across projects ranging from offering ability-friendly sporting opportunities and youth advocacy to programmes that help refugees, and the hosting of this festival at Education City reflects our shared dedication to empowering youth through sport, we look forward to welcoming young people from across the Arab region in celebration of the FIFA Arab Cup, and to next year's edition when Qatar will welcome the world."
The festival will end with a football for good tournament called All In Game, which is designed to maximize social skill development outcomes. On the final day of the programme, participants will attend the FIFA Arab Cup final at Al Bayt Stadium.
Source: QNA