GDT Unveils Date of Applying Violations Against Delivery Motorbikes That Don't Abide by Law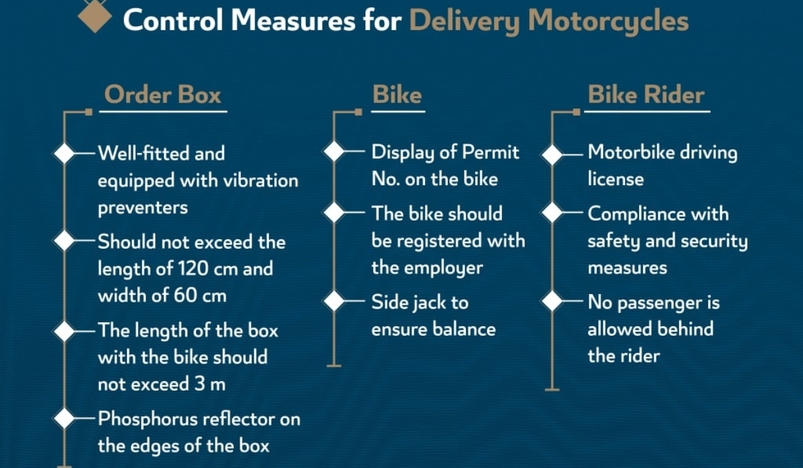 Control Measures for Delivery Motorcycles
General Directorate of Traffic (GDT) confirmed that it would embark on applying the traffic violations against the delivery motorbikes that do not abide by the traffic regulations and rules starting from November 16,2022.
In a statement, GDT said that starting from Nov. 16,2022, all motorbike drivers would be considered violators of the traffic law issued under the law No. 19 of 2007, when they do not adhere to the conditions and regulations pertaining to the motorbike tracks for orders delivery, indicating that every one will be considered a violator against the article No.85, if he does not adhere to the conditions and regulations of securing the load and does not wear the helmet, according to the fifth paragraph of the Article 48, including the driver who does not hold the steering wheel with both hands, in accordance with the third paragraph of the Article 48. The statement stressed on the importance of the adherence of all motorbikes drivers, who deliver the order, to the right track of the road.
In addition, GDT announced a myriad of regulations during a press conference last week with respect to the operation of delivery motorbikes as determined by the law, and drew attention to several traffic violations that have been increasing during the recent months, calling on the concerned companies' stakeholders to abide by the rules and requirements, whether those related to the driver, motorbike or orders' boxes, and set the date of Nov. 16,2022, as the deadline to embark on enforcing the violation measures on motorbikes that do adhere to these regulations.
(QNA)