Fuwairit Kite Beach Resort open in early October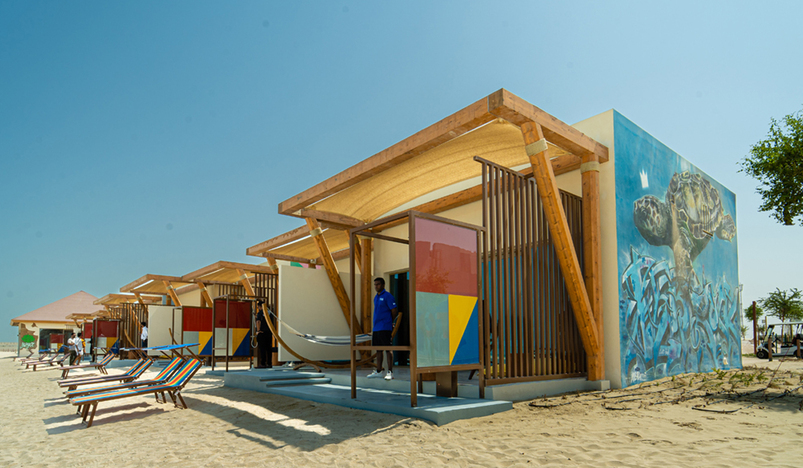 Fuwairit Kite Beach Resort
Fuwairit Kite Beach, a purpose-built resort designed for kitesurfing lifestyle, is expected to open in early October.
This is another addition to the growing number of new resorts set to receive guests as Qatar hosts the FIFA World Cup later this year.
Located on Qatar's northern coast, 1.5km south-east of Fuwairit Village, a one hour 20 minute-drive from Doha, the resort boasts 50 king and twin rooms with creatively designed walls with 40 of the rooms overlooking the sea.
Everything is artistically done from the property's entrance to the walls, featuring various kinds of paintings and graffiti as well as different kinds of artworks on display which give the ambience of a relaxing getaway. The team members in the resort are asked to pick their favourite artwork in the property and create their own little stories on it. The resort also features a fully-equipped gym, spaces for beach volleyball and football, a yoga studio with instructors, and space for team building activities.
The resort will also have an outdoor cinema, restaurants and a pool.
Supported by Qatar Tourism, Discover Qatar and Qatar Airways, the resort is ideal for kite surfing bearing in mind that Fuwairit has excellent kitesurfing conditions, consistent winds, ideal ocean water and powder-soft sands.
The one-of-a-king resort also has a kitesurfing school where children and adults can learn the sport with a variety of kite-surfing equipment. The kitesurfing lessons are available for beginners and advanced learners. The beginner training takes between six and nine hours to get up on the board. Besides, safety measures are taught from the start of the lessons. The first hour is taught on the beach before going onto the water. The lessons can be given to children aged between eight to 10 years who have to be about 35 to 40 kilograms for them not to be lifted up by the kite.Besides kitesurfing, other activities at the resort include stand up paddles, water bicycles, water scooters, mountain bikes, among others.
In cooperation with Discover Qatar, thee resort will also organise sea diving where people can see whale sharks. Besides the World Cup fans visiting the resort later this year, the property will host the opening of the GKA World Tour in January 2023.
A room costs about QR700 per night; however, the prices may vary depending on the season and occupancy. The meals are offered inside the rooms.