Fun-filled Activities to Do During Winter Season in Qatar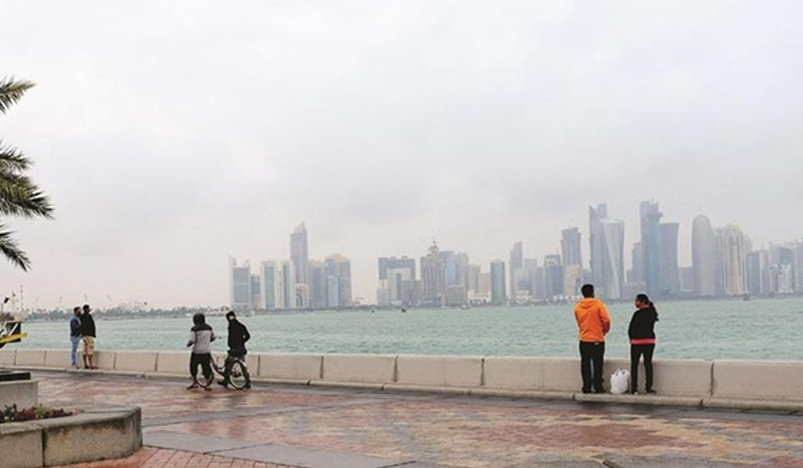 Fun-filled Activities to Do During Winter Season in Qatar
Are you looking forward to the winter season in Qatar? Did you know that the country has more exciting places to visit and activities to do during the cold weather? Read on to discover.
The Hukoomi e-Government Portal has published some amazing facts, activities, and tips about the winter season in Qatar during this period.
While the restrictions of COVID-19 are gradually being lifted in Qatar, it is important for the public to adhere to the following precautionary measures for everyone's safety:
- Adherence to physical distancing
- Avoid close contact with others,?crowded places, and confined closed spaces where other people congregate.
- Wearing a face mask
- Washing hands regularly
Here are some amazing facts, activities, and tips during the winter season in Qatar, according to the Hukoomi:
During the winter months from October to March, the climate in Qatar is pleasantly cooler; temperatures fall to a daily range of 24ºC to 35ºC and nighttime range of 15º to 22º; Al Shamal, a hot and dry wind that is full of dust, subsides; people leave their homes and the malls to pursue outdoor activities, such as:
• Camping
• Cycling
• Sailing
• Hiking
• Exploring Qatar
Explore the great outdoors
Winter is an ideal time to explore the country. Head north or south out of Doha and you will soon stumble across natural rock formations, sand dunes (mainly to the south), beautiful beaches, and places of historical interest.
Many of the popular destinations, including some of the beaches can be reached by saloon car, although you will need a 4x4 vehicle to access some of the more out-of-the-way locations.
Pitch your tent
Camping is very popular during winter among both expatriates and locals. Many Qataris take a long break from their homes in the city and set up semi-permanent camps with all modern conveniences, including generators and televisions. There are a number of activity adventure companies that offer overnight stays at professionally-run camping sites with varying levels of home comforts, meals and entertainment. And for the adventurous, the best way of sleeping under the stars is to buy your own tent and head out to a beach, dune or even an island! In case you would like to set up a long-term camp, you are required to apply for a camping permit.
Go to the park
Qatar's parks are a good option for you to have a good time during the cooler months. Doha has many municipal parks that offer something for everyone: jogging tracks, cycle paths, relaxing walks, picnic spots, children's recreational areas and cafés.
Many parks offer free Wi-Fi internet access through the iParks initiative which has been jointly developed by the Ministry of Transport and Communications and the Ministry of Municipality and Environment. The secure, high-speed (8 mbps) connection, can be accessed following a simple registration and authentication process (a PIN is sent to your mobile device).
Take a cruise to the seas on a sailboat (dhow)
Tour companies offer three to four hour evening dhow cruises which include dinner, traditional music and entertainment. Alternatively, you can charter a Dhow privately for a half or full day.
Visit the Inland Sea "Khor al-Adaid"
Commonly known as Khor al-Adaid, the Inland Sea is a popular weekend getaway and just an hour and half's drive from Doha. The Inland Sea joins the Arabian Gulf at a narrow inlet, which also shares the southern border with Saudi Arabia.
Listen to the Singing Sand Dunes
The Singing Dunes are located 40km southwest of Doha, close to the Sealine Resort. The dunes are crescent-shaped and form a natural amphitheatre. The low murmuring sound is created by moving sand and occurs naturally by the winds or when the sands are disturbed by walking on the crest of the dune. A tip is to wear sensible shoes and cover up as the wind can whip up the sand and sting you.
Enjoy a day out at the horses
Visit the Qatar Racing and Equestrian Club (QREC) where horse racing events take place. There are also horse riding lessons for adults and children at the QREC, Al Shaqab Equestrian Center, Al Samariyah Equestrian Centre and Al Khor Riding Center and Qatar Equestrian Federation.
Go see a camel race
The Sheikh Faisal Camel Race Track is just north of Shahaniya, a 30-minute drive to the west of Doha on the Dukhan Road. Race season begins when training programs started and minor races are held, with several prestigious events usually in March and April.
Visit the beaches
A visit to the beach should be on everyone's wish list. Being a peninsula, Qatar has many fine natural beaches all of which are free to access.
• To the north, about 80 kilometers from Doha, you will find the popular Fuwairit beach and just before that the smaller Maroona Beach (or the French Beach).
• To the south are the two Al Wakra beaches and further south (40 kilometers from Doha) the beach next to Sealine Resort, again a very popular destination.
• To the West, Umm Bab (90 kilometers from Doha) is a great retreat and has palm trees right on the shore. There are also fine beaches at Samaisma, Al Khor, Ras Abrouq and Dukhan and Al Ghariya.
• Good times to visit are during the week (if you have a day off) as some of the beaches can get busy during the weekends, and the best times to go are early morning and from 3pm onwards, although during the winter you can comfortably make a day of it.
Note: Even in the cooler months ultra violet ray levels are still high. Always apply sun protection, wear eye protection and take a hat.
Visit a historical place of interest
Qatar has an abundance of heritage sites, including Bronze Age settlements, medieval palaces, 19th century forts, old pearl-fishing villages, impressive towers and beautiful mosques. The cooler winter months are an ideal time to explore and learn about Qatar's past. Here's a selection of places to get you started:
Al Zubarah Archaeological Site – At the northern-most point of the peninsula, this archaeological site is one of the largest and best-preserved examples of an 18th-19th century merchant town in the Gulf and was recently designated a UNESCO World Heritage Site. The old pearl-diving town had a turbulent history, which is presented in an exhibition at Al Zubarah Fort close by. Opening times: Visits by arrangement – contact Qatar Museums.
Al Zubarah Fort – In close proximity to the archaeological site of Zubarah stands an impressive fort. Originally built by Sheikh Abdullah bin Jassim Al Thani in 1938, it served as a Coast Guard outpost and has recently been renovated to its original glory.  The fort is one of the best examples of its kind in Qatar and possibly the region. Free admission.
The Old Palace – The Palace of Sheikh Abdullah bin Jassim Al Thani in Doha, the 'father of modern Qatar', represents one of the most important heritage locations in the country. Visits by appointment only, contact Qatar Museums.
Old pearl-fishing villages – Dotted along the northern coast of the peninsula you will find abandoned pearl-fishing villages, the remnants of a lost civilization. Some of these villages are cordoned off and you may need to seek permission to enter the sites.
• Al Jumail
• Al Khuwair
• Al Areesh
Barzan Towers – Located in the village of Umm Salal Mohammed, these twin towers were originally built to protect a valley where precious rainwater irrigated an oasis.