From Qatar to Malaysia: Nando's Qatar Finalist to Compete in International Master Grillers' Showdown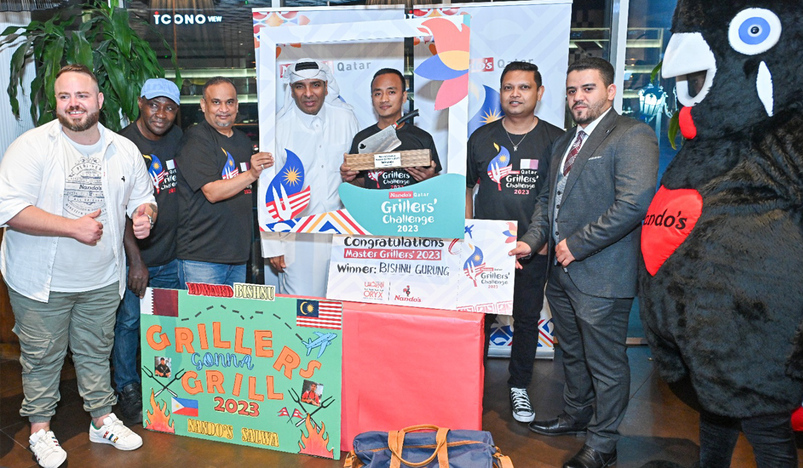 Nando's Qatar
Nando's Qatar, the home of legendary flame-grilled PERi-PERi chicken, is thrilled to announce the tremendous success of its National Master Grillers Challenge. This exciting event took place yesterday at Nando's C-ring road at Financial Square, featuring grillers from various Nando's restaurants across Qatar as they showcased their exceptional skills and competed for the highly sought-after top spot.
In a fiery competition, Bishnu Gurung from Nando's Salwa Road branch emerged as the winner, securing the esteemed title of National Master Griller. Bishnu's exceptional grilling skills, passion, and dedication to perfection earned him a well-deserved crown. Bishnu Gurung will have the incredible opportunity to represent Nando's Qatar on the global stage in Malaysia later this year, competing against the best of the best grillers from Nando's worldwide.
On the event, Balu Subramonian, Head of Operations at Nando's Qatar, said, "The National Master Grillers Challenge is a testament to Nando's commitment to excellence and unwavering dedication to providing unparalleled culinary experiences for our fans. This annual event is an embodiment of Nando's values, celebrating the art of grilling and the passion that goes into creating our flame-grilled PERi-PERi chicken. It also highlights how Nando's positively impacts the lives of our people, nurturing talent and fostering a sense of camaraderie among our team members, or as we like to call them – Nandocas."
Sajed Sulaiman, Vice Chairman & Managing Director of Oryx Group and Nando's Qatar, expressed gratitude to all participants and the dedicated Nando's team behind the National Master Grillers Challenge for their contributions to the event's resounding success. While honoring the winner, he commended team's commitment in reflecting Nando's core values of Pride, Passion, Courage, Integrity, and Family.
Nando's Qatar extends a special appreciation to Mazzraty – its local poultry partner – for their invaluable support as a co-sponsor of the event. Mazzraty's commitment to delivering excellent products aligns perfectly with Nando's vision of providing customers with an exceptional dining experience that captures the true essence of Nando's, Sajed added.