From Gahwa to Spanish latte: Doha's Evolving coffee culture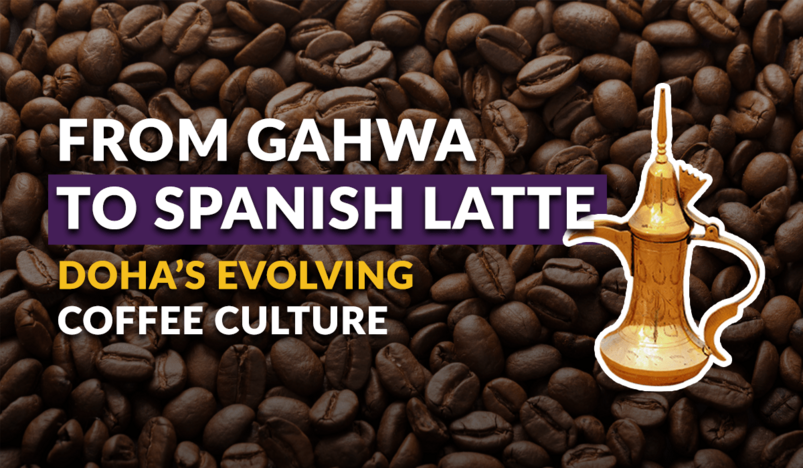 Doha's Evolving coffee culture
Many people worldwide seek a hot cup of coffee first thing in the morning—perhaps after pushing the snooze button on their alarm clock. The caffeinated beverage has been firmly ingrained in our daily rituals, fueling us for the day ahead. Moreover, it has long been popular in nations where coffee plants are indigenous, quickly spreading throughout the world.
The name coffee comes from the Arabic word Gahwa, and like the drink, it evolved as it spread westward. According to legend, coffee was initially found in present-day Ethiopia by a goat herder named Kaldi, alerted to the stimulant by his "dancing goats." Before reaching Europe and Asia, the magic bean traveled from Ethiopia to Yemen, then via the Levant. So, I guess we all need some 'dancing' to stay alert.
Here in Doha, coffee is nothing new as it is engrained in the local culture. Arabic coffee is steeped in tradition, with intricate preparation, serving, and consuming rituals. The majlises, which are still a part of the modern-day Qatari culture, maintains this practice. Family members and friends gather here to socialize and discuss issues at hand, lubricated by free-flowing Gahwa. However, the younger generation has embraced coffee in all its forms. Doha also has many specialized coffee shops, some of which serve modern and or trending coffees.
Like the majlis, these cafes have spread to almost every city corner, functioning as sites for social meetings. Qatar's coffee culture now combines traditional coffee shops and modern chains, thanks to the advent of foreign café brands. Responding to increased demand for places to socialize, stepping into broader, upscale evening social venues and instagrammable hot spots. These coffee shops are always busy no matter the time of day it is.
You can now pick up your specialty coffee at the latest "it" spot in Lusail. There is a popular box park with new restaurants and cafés near the marina in the newly created smart city. At The Pearl-Qatar, it is common to see people getting coffee with their friends from upscale restaurants or cafés. The Souq Waqif provides a traditional or throwback environment for friends to catch up over coffee in a reminiscent environment. Katara Cultural Village is also home to many coffee shops that serve specialty blends that act as a perfect pick-me-up during a leisurely stroll through the art galleries, shops, and exhibition spaces. The newly restored Msheireb Downtown lies in the heart of Doha's cultural district and houses excellent cafes. Not forgetting the coffee shops dotted all around Doha and at high-end hotels offering a quick drive-through experience or a plush, posh setting.  
Apart from enjoying the excellent, freshly brewed coffee, the comfy environment is perfect for meeting clients, friends or just taking some photos for Instagram. In Doha, the coffee culture has taken on a new face in recent years, with cafes sprouting up across neighborhoods. As a result, the café scene is thriving. While you can still order a Spanish latte, flat white, or Americano at super-speed- there's now a new focus that's emerging, drifting away from fast coffee trends, towards a slower, chilled coffee experience.
Coffee shops are now an inextricable part of the community's fabric. People here enjoy not only the taste of the coffee but also the full experience of enjoying this world-renowned beverage. While coffee is still a major attraction, many cafes also offer comfort, convenience, and content for our Instagram pages. There are free wireless services, comfy couches, relaxing music, and even books in certain places.