French Hospital Confirms Israeli Police Attacked at Funeral of Shireen Abu Akleh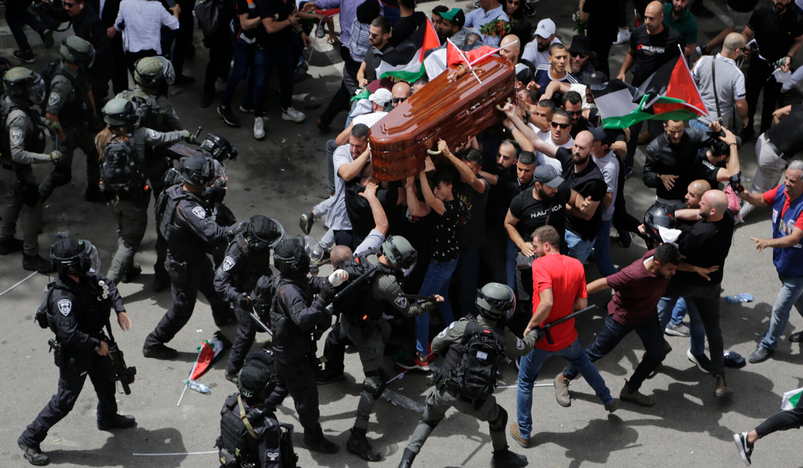 The French Hospital Confirms Israeli Police Attacked Funeral Procession of Shireen Abu Akleh
The administration of the French Hospital in occupied Jerusalem confirmed that the Israeli police's attack on the funeral procession of the martyr Shireen Abu Akleh, Al-Jazeera correspondent, is a violation of humanitarian laws, accusing the Israeli occupation police of being the only party that practiced violence during Shireen's funeral.
In a press conference held Monday, the hospital administration showed a video showing the Israeli police assaulting the body of the martyr journalist Shireen Abu Akleh, and the general mourners present at the moment the coffin was taken out of the hospital last Friday.
The administration strongly denounced the storming of Israeli police to the hospital buildings, noting that it was looking for the possibility of prosecuting the Israeli police after attacking the hospital, and had contacted a law firm to discuss filing a complaint against the occupation over what happened during the funeral of journalist Abu Akleh.
It stressed that the force of law should prevail to hold accountable those responsible for the attack on the hospital, and the coffin of Shireen Abu Akleh and the mourners, stressing that the Israeli police were the only party that practiced violence during the funeral, considering that its actions were not preceded by any provocation and that it cannot be justify what happened.
It also denounced these irresponsible measures taken by the Israeli police against the hospital and its staff.
The Palestinian journalist Shireen Abu Akleh , the correspondent of Al-Jazeera news channel, was martyred last Wednesday by the Israeli occupation bullets, while she was covering an incursion into the Jenin camp in the occupied West Bank. 
Source: QNA