Formula 1 artist's paintings on display at Marriott Marquis Hotels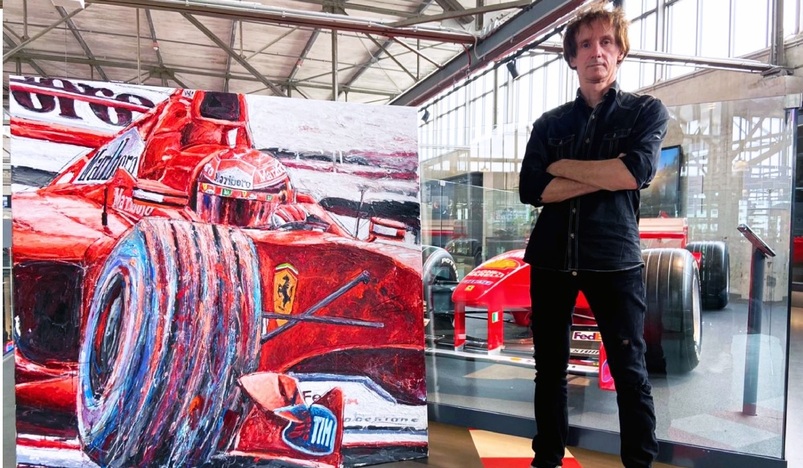 Renowned painter and official Formula 1 artist Armin Flossdorf with his works of art.
The works of art by the world-famous painter and official Formula 1 artist Armin Flossdorf, which are exhibited in the JW Marriott Marquis City Center Doha and the Marriott Marquis City Center Doha, contribute to the country's Formula 1 (F1) enthusiasm.
Commenting on his visit to Doha, he said: "I am delighted to be in Qatar for its first F1 event. The city was full of action when I arrived and I am currently enjoying the great hospitality of the Marriott Marquis and JW Marriott Marquis City Center Hotels. I'm looking forward to spending the next few days and especially the weekend here. I'm most excited about the opportunity to have great networking with art lovers and F1 fans. "
Rick Enders, General Manager of the City Center Doha Cluster of JW Marriott Marquis, Marriott Marquis and Marriott Executive Apartments, said: "We are very pleased to welcome Armin Flossdorf to this special time when the destination is embracing F1 fever and to house. Armin's selected collection is exhibited in our two hotels so that our guests can enjoy and experience the moment of F1, even when they are not on the racetrack. We look forward to continuing our partnership with Armin in the years to come. "
Flossdorf's unique paintings take the viewer deep into the adventures of Formula 1. His exhibition can be seen in the lobbies and public areas of said hotels. His adrenaline-fueled paintings capture the thrill and history of Formula 1 on canvas. He follows the world's best drivers on their annual racetrack around the globe, attending as many Grand Prix as possible to produce the best high-speed art. His previous work repertoire can be found on the walls of the most famous names in Formula 1, including Jean Todt, the former head of Ferrari F1 and now President of the FIA; Bernie Ecclestone, former CEO of the Formula 1 Group; and more recently the Finnish Formula 1 driver Kimi Räikkönen.
In a spirit of celebration and giving back, Flosdorf will donate one of their artwork to raise funds for Education Above All (EAA) to support disadvantaged children around the world. Its goal is to contribute to human, social, and economic development by providing quality education to less fortunate communities around the world. With a special focus on those affected by poverty, conflict and disasters, the EAA advocates the needs of children, young people and women in order to enable them to become active members of their immediate society.
Source: Tucker Tourism News