Forbes Middle East's Top 50 Travel & Tourism Leaders features three Qataris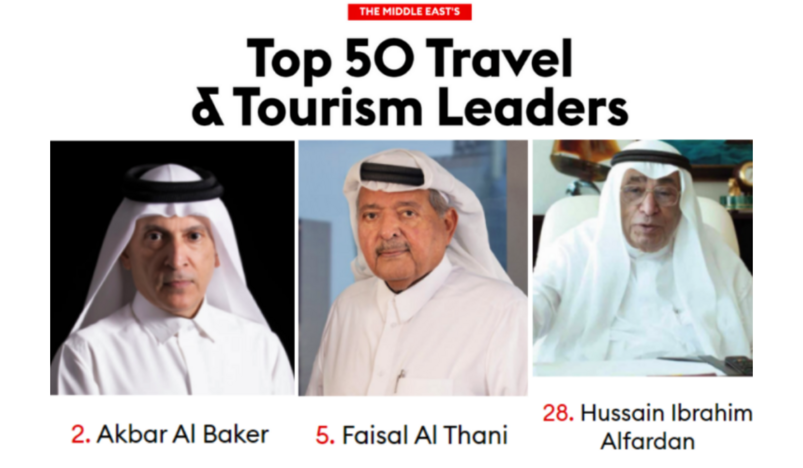 Three Qataris have been named among the Top 50 Travel & Tourism Leaders in the Middle East by Forbes
Doha: Three Qataris have been named among the Top 50 Travel & Tourism Leaders in the Middle East by Forbes Middle East.
The list honors 50 individuals who are driving growth in the Middle East's travel and tourism industry, based on their desire to reconnect with the rest of the world.
The three Qataris are Akbar Al Baker, Chairman of Qatar Tourism and Chief Executive of Qatar Airways Group; Sheikh Faisal bin Qassim Al Thani, Chairman of Qatari Businessmen Association (QBA); and Hussain Ibrahim Alfardan, Chairman of Alfardan Group.
The hotels and hospitality sector were the most dominant with 26 entries, followed by aviation with 17, and tourism with seven entries.
The Forbes Middle East website said that the travel and tourism industry experienced a revival in 2021, following one of the worst years the sector has ever seen. As countries and people continue to emerge from the cloud of the pandemic, their increasing desire to reconnect with the world is expected to become the driving force of growth in travel throughout 2022.
It also said that working remotely has today become commonplace for many employees, with big tech companies, adding that on the financial side, most travel companies are now favoring an asset-light approach. The separation between the management of operations and real-estate assets now allows hospitality companies to focus on their core business.