Forbes Middle East: Top 10 Most Powerful Businesswomen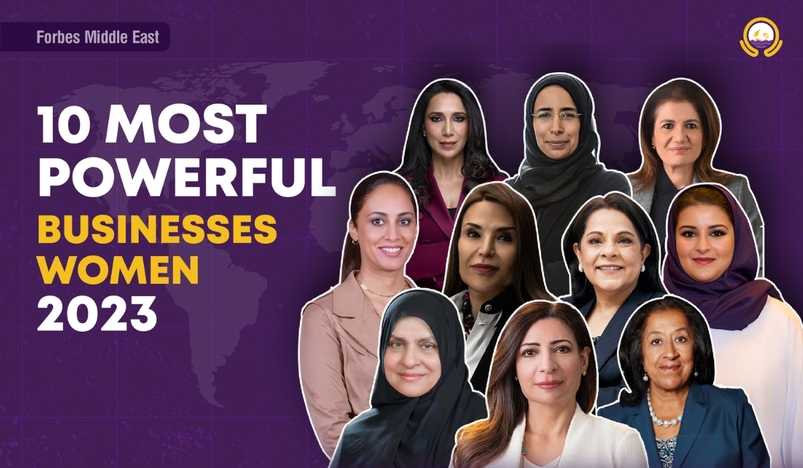 Top 10 Most Powerful Businesswomen
Women in the Middle East and North Africa are increasingly taking on leadership roles in business, with many making their mark internationally. Hana Al Rostamani - Group CEO of First Abu Dhabi Bank, Raja Easa Al Gurg - Chairperson & Managing Director of the Easa Saleh Al Gurg Group, Mona Ataya - founder and CEO of Mumzworld, and Randa Sadik - CEO of Arab Bank, are just a few examples of successful female businesswomen from the region. This year's list of the region's most powerful businesswomen features 100 entries, with women from a variety of sectors and nationalities. The banking and financial services sector is the most represented, followed by diversified businesses, investments, retail, and healthcare. The UAE and Egypt have the most entries on the list, followed by Saudi Arabia, Kuwait, Lebanon, Qatar, and Oman. The list of the 100 most influential businesswomen in the region this year includes 104 women from 27 different industries and 27 countries.
Here is a list of the top 10 Most Powerful Businesswomen in the Middle East.
1. Hana Al Rostamani
Company: First Abu Dhabi Bank (FAB)
Title: Group CEO
Nationality: Emirati
Sector: Banking and Financial Services
Al Rostamani became the first female CEO of FAB in 2021. The bank is the U.A.E.'s largest, with total assets of $312.4 billion as of September 2022. It recorded net profits of $2.98 billion in the first nine months of 2022, an increase of 19% compared to the same period in 2021. In June 2022, FAB completed a merger with Bank Audi Egypt under the umbrella of FABMISR, making it one of the largest foreign banks in Egypt, with assets worth $10 billion as of March 2022. In October 2021, FAB became the first U.A.E. and GCC bank to join the Net-Zero Banking Alliance. Al Rostamani is also chair of the Global Council on Sustainable Development Goals and a board member of MasterCard Advisory and the Institute of International Finance.
2. Raja Easa Al Gurg
Company: Easa Saleh Al Gurg Group (ESAG)
Title: Chairperson & Managing Director
Nationality: Emirati
Sector: Diversified
ESAG has been operating for more than 60 years, and Al Gurg has been with the company for more than 30 years. The group launched two new businesses in Q4 2022: Al Gurg Distribution and Al Gurg Joinery. It also invested in five new large-scale real estate projects. In 2022, Al Gurg was appointed as Honorary Pro-Chancellor of Heriot-Watt University Dubai. In 2023, the family business plans to enhance its contributions toward building the Hamdan Bin Rashid Cancer Charity Hospital, which will serve patients unable to afford quality care.
3. Lubna S. Olayan
Company: Saudi British Bank (SABB); Olayan Financing Company (OFC)
Title: Chair; Chair of the Executive Committee and Deputy Chair
Nationality: Saudi
Sector: Banking and Financial Services
Olayan became the first woman to join the board of a publicly-listed Saudi company in 2004. In February 2022, the Olayan Financing Company announced a new partnership with King Abdullah University of Science and Technology through the Suliman S. Olayan Foundation to establish the Suliman S. Olayan Institute for Innovation and Entrepreneurship. Olayan was appointed to join the World Economic Forum's Board of Trustees in September 2022. She is also chairman of the Saudi Swedish Business Council.
4. Shaikha Khaled Al Bahar
Company: National Bank of Kuwait Group (NBK)
Title: Deputy Group CEO
Nationality: Kuwaiti
Sector: Banking and Financial Services
Al Bahar is the Chairperson of NBK Egypt and NBK France, and serves on the boards of NBK (International) PLC and NBK Global Asset Management Limited. Al Bahar has been the Deputy Group CEO since March 2014. NBK operates across four continents and employs more than 8,500 people, with 140 branches in 13 countries. It had $113.4 billion in total assets as of the end of September 2022. In 2022, Al Bahar received an award for her Distinguished Services to Arab Banking from the Arab Bankers Association.
5. Renuka Jagtiani
Company: Landmark Group
Title: Chairwoman
Nationality: Indian
Sector: Retail
Jagtiani has been at the helm of her family business for more than 26 years. The retail and hospitality conglomerate operates in the Middle East, Africa, and the Indian subcontinent. It employs 48,000 people and has a portfolio of 43 brands across 2,200 stores in 21 countries. The international brands under its umbrella include Steve Madden, Krispy Kreme, and Pablosky. The group founded the LIFE Trust in 2000 and is devoted to providing quality education to those who do not have access to it.
6. Wadha Ahmed Al-Khateeb
Company: Kuwait National Petroleum Company (KNPC)
Title: CEO
Nationality: Kuwaiti
Sector: Oil and Gas
Al-Khateeb assumed her role as CEO of KNPC in November 2022, where she oversees 6,270 employees. The company recorded total revenues of $33.8 billion for the fiscal year that ended in March 2022. Al-Khateeb has 28 years of experience in the oil sector. She previously established the Worker Woman Committee in the Oil and Petrochemical Industries Workers Confederation. She also led the registration of the Flare Gas Recovery Unit—the first Kuwaiti project to be listed in the United Nations Framework Convention on Climate Change. Al-Khateeb is also a chairperson and board member for the Kuwait Paraxylene Production Company and a member of the Kuwait Women Cultural & Social Society, among other roles. Before taking her current position, she was deputy CEO at the Mina Abdullah Refinery.
7. Sarah Al Suhaimi
Company: Saudi Tadawul Group
Title: Chairperson
Nationality: Saudi
Sector: Banking and Financial Services
Al Suhaimi has 20 years of experience in the financial services industry. She was appointed chair of Lazard's financial advisory business for MENA in September 2022. She also serves as chairperson of the Saudi Tadawul Group. In November 2022, FTSE Russell updated the Saudi Tadawul Group's investability weightings on the FTSE All-World Index, the FTSE Global Mid Cap Index, and the FTSE Emerging Index. In December 2022, the group signed an MoU with Boursa Kuwait to explore collaboration opportunities in Fintech, products, and sustainability in ESG, among others. Before assuming her current position, Al-Suhaimi served as the CEO of Saudi National Bank Capital.
8. Hanan Mohamed Al Kuwari
Company: Hamad Medical Corporation (HMC)
Title: Managing Director
Nationality: Qatari
Sector: Healthcare
Al Kuwari assumed her current role in 2007. HMC is one of the main providers of secondary and tertiary healthcare in Qatar, managing 12 hospitals across Qatar, as well as the National Ambulance Service and multiple home and residential care services. Al Kuwari was also appointed Qatar's Minister of Public Health in January 2016. She currently chairs, co-chairs, and takes part in several health, research, and advisory boards, including the Academic Health System International Advisory Board, the Hamad Healthcare Quality Institute International Advisory Board, and other committees at the Ministry of Public Health. She previously worked at the World Health Organization, Reuters, and as a freelance health reporter and writer.
9. Shaista Asif
Company: PureHealth Group
Title: Co-Founder & Group COO
Nationality: Pakistani
Sector: Healthcare
Asif has more than 22 years of experience, 16 of which she has spent in the healthcare industry. She co-founded the PureHealth Group in 2006 and assumed her current role in 2010. PureHealth is the U.A.E's largest healthcare group, with over 25 hospitals, more than 100 clinics, 160 labs, health insurance provider, pharmacies, health tech, procurement, investments and more. It owns SEHA, Daman, Abu Dhabi Stem Cells Center, Ambulatory Healthcare Services, Rafed, Yas Clinic Group, The Life Corner, Tamouh Healthcare, The Medical Office, Pure Lab, and ONE Health. Abu Dhabi's Department of Health collaborated with PureHealth on organ and tissue donation in November 2022.
10. Randa Sadik
Company: Arab Bank
Title: CEO
Nationality: Jordanian
Sector: Banking and Financial Services
Sadik has been at the helm of the Arab Bank since February 2022. The bank has over 600 branches across five continents. The bank had assets worth $64.7 billion as of September 2022. For the first nine months of 2022, the bank recorded $405.8 million in net income, a 49% increase compared to the same period in 2021. Net operating income increased by 13%, loans increased by 4% to reach $35.6 billion, and deposits reached $47.8 billion, up by 3%. In November 2022, the Arab Bank established a Sustainable
( Forbes Middle East )