First Branch of Sorbonne University Opens in Doha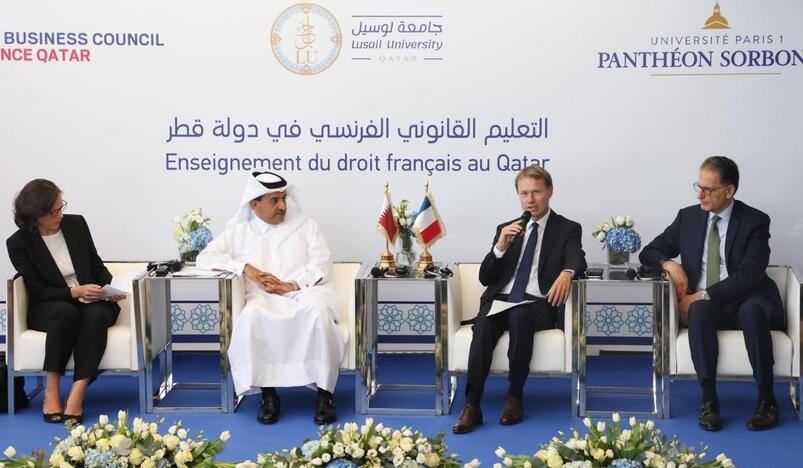 Part of the Panel Discussion Held on Sunday
HE the Chairman of Board of Trustees of Lusail University, Dr Ali bin Fetais al-Marri, announced the official inauguration of the first Sorbonne University-Doha branch in Qatar, following a partnership between Lusail University and Sorbonne.
In a statement given to QNA, HE Dr Al-Marri said that last September Sorbonne University-Doha started accepting Qatari students.
Dr. Al Marris said that the French Sorbonne University has a long and globally recognized history, and subsequently its branch Sorbonne University-Doha will be of benefit to the educational community in Qatar.
Dr. Al Marri statements came as a part of the occasion of the Qatari-French panel discussion on French legal education, which was held by the Sorbonne University in Doha in partnership with the Sorbonne University in Paris.
Amongst the speakers at the panel discussion are HE Dr. Ali bin Fetais Al Marri, HE Ambassador of the French Republic to Qatar Jean-Baptiste Faivre, Dean of the School of Law at Sorbonne University, and Professor of Private Law and Director of Academic Affairs at Sorbonne University-Doha.
The panel discussed addressed the topics related to legal sciences, such as criminal laws, contracts law, companies, and arbitration.
During the discussion, HE Dr. Ali bin Fetais Al Marri reiterated his persistent quest for the success of this unique experience in the state of Qatar and he committed to striking a partnership agreement with one of the prestigious global universities in the field of teaching law in French language through choosing University of Paris 1 Pantheon-Sorbonne.
His Excellency expressed his hope that Qatari youth will utilize this new experience in Doha, which will help them open up to the world through mastery of legal sciences as well as the French language, which would essentially benefit the State of Qatar and contribute to achieving its national vision 2030.
HE Ambassador of the French Republic to Qatar Jean-Baptiste Faivre said that this experience is exceptional, stressing the need to support it, as it is the first of its kind in the State of Qatar, and considered it a new opportunity to further boost bilateral and strategic cooperation between the two countries.
Source: QNA