Finding the Best Sports Bars in Doha just got Easier with the More Cravings by Marriott Bonvoy App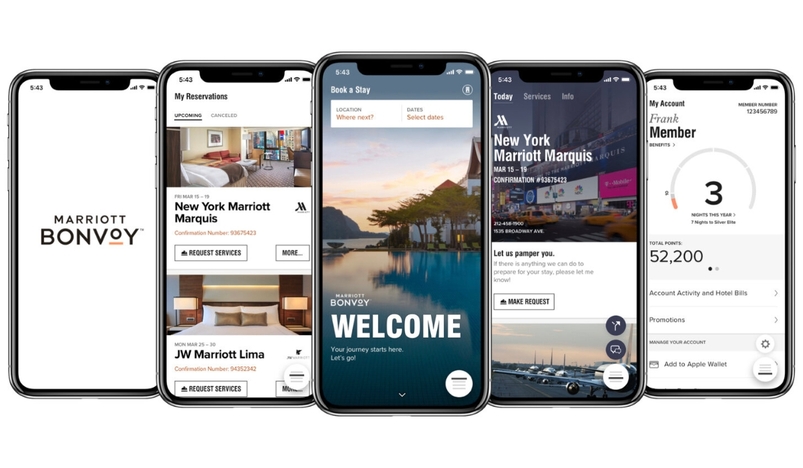 Marriott Bonvoy App
More Cravings by Marriott Bonvoy™ is here to make your dining out plans easier as it brings together more than 70 fabulous restaurants and lounges from Marriott Bonvoy® hotels across the country into one convenient app. From the engaging atmosphere in Champions Sports Bar at Marriott Marquis City Center Doha, vibrant and welcoming sporting action in Irish Harp at Sheraton Grand Doha Resort & Convention Hotel, to a lively hang-out spot with 19 screens in G.O.A.T. Sports Lounge at Le Royal Méridien Doha, even the most discernible of Doha's diners and football lovers will find something to satisfy their cravings.  
The More Cravings by Marriott BonvoyTM app not only is the perfect way to help you select your next dining location, but it also features an extensive list of great places to catch all the sporting action and watch the latest matches. Get a little closer to all the footballing brilliance in one of the incredible venues on the More Cravings by Marriott BonvoyTM app and enjoy a range of offers and promotions in the process. Take the hassle out of deciding where to watch the game as the app allows you to check table availability based on your location.  
From outdoor venues where you can soak in the fresh air to restaurants where you can enjoy a tasty meal while watching the excitement unfold, the More Cravings by Marriott BonvoyTM app has it all. Boasting the best outlets in Qatar, football fans will have to look no further to find the perfect spot to take in every single moment of sporting entertainment.   
Moreover, Marriott Bonvoy® members can savour more and earn and redeem points on dining even when not staying in our hotels. Earn 10 points with every eligible 1 USD (AED/QAR 3.7) spent and enjoy the exclusive benefits and endless experiences of our award-winning program. Terms and conditions apply.  
Our Recommendations to the Best Places to Catch all the Action:  
Al Messila, A Luxury Collection Resort and Spa, Doha 
Match Box – Relax in an informal yet distinctive atmosphere and catch up with the action of your favourite teams while indulging in a crafted selection of delightful sips and bites brought to you by the culinary excellence of our talented chefs. Enjoy the Sports Lounge & Garden with outdoor seating showing all the games with a live BBQ station.  
JW Marriott Marquis City Center, Doha  
The Den –Watch every kick, every goal, and every thrilling moment live on big screens.  Enjoy daily live entertainment and signature drinks.   
Marriott Marquis City Center, Doha  
Champions Sports Bar -. There's no need to miss the best in sporting action with 47 TV screens and and tasty Tex-Mex & American pub classics. A good time is guaranteed for all. Pre-booking is required in 3hrs blocks.  
Sheraton Grand Doha Resort & Convention Hotel  
Irish Harp - Cheer on your favorite team and watch the latest sports action on one of the 12 large TV screens. Discover a little bit of  the Emerald Isle right here in Doha with its dining menu that includes Irish favourites. Ireland might not be playing, but its warm hospitality is still on hand to greet you while you enjoy the matches.  
The Ritz-Carlton Sharq Village, Doha  
Tiki Taka – You are invited to an exclusive escape located in the heart of a luxury beach resort. Tiki Taka welcomes you to experience the best of local & international cuisine & mixology, live entertainment with acclaimed DJ's and artists and unmatched vibes along a beautiful private beach. At Tiki Taka, you can have it all! Come and watch the matches with friends by the stunning infinity pool on the dedicated TV screens.  
The St. Regis Marsa Arabia Island, The Pearl Qatar 
Nar – If you're looking for somewhere a little bit more spectacular to view the games then visit The Pearl's newest dining addition featuring Anatolian cuisine in a lively, casual chic setting. Sports fans can enjoy its football event set menu from November 20th to December 18th where they will be able to explore the flavours of Turkiye. To ensure your seat, reservations are a must!  
The St. Regis Doha  
Oyster Bay - As the sun goes down, the cool evening, starlit sky and shimmering Arabian Skyline all create an intimate setting to enjoy quality time with their family and friends while savouring beverages, snacks and shisha. A set menu features soft or house beverages and live entertainment to keep the mood upbeat between and after matches. Prior reservation is a must.  
W Doha Hotel & Residences 
Wahm - One of Doha's most stylish al fresco restaurants and bars, complete with expertly blended beverages, tasty light bites, and poolside cabanas for a five-star evening. Wahm will be hosting public viewings of all the games for guests aged 21+.  
Le Royal Méridien Doha   
The G.O.A.T Sports Lounge - This go-to hangout offers 19 screens dedicated to live sport, along with live music, an outdoor terrace, a private viewing room, pool table, fun mixology and hearty, home-style comfort food. Once the adrenaline surge fades and the hunger kicks in, you can indulge in large signature sharing boards or three-level food towers washed down with an icy glass of draft hops. G.O.A.T is extra special on those big match days; the exhilarating atmosphere is simply embracing! Feed your love for live sport, music, great food and frosty beverages – let go and live it up! 
The Westin Doha Hotel & Spa 
INCA Lounge – on first floor - INCA World is a Creative Concept with Cultural & Pentatonic sounds inspired by the cultural mix of the INCA Empire that originated in South America. A unique music journey awaits you every day starting from November 18th until the 18th of December. INCA World at The Westin Doha Hotel and Spa -Mix Bar is the area's largest rooftop venue, where the matches will be broadcasted live on big screens with the best comfort food & cold brews in town! Live DJ performance with international resident DJs playing party tunes till 2:00 AM Daily. All games will be screened on 2 Giant LED screens in the venue.Pre-payment and Pre-booking are mandatory.  
Le Méridien City Center, Doha    
Bar Rouge - A stylish and elegant bar offering Le Méridien Sparkling and aperitivo evenings. A cozy destination to unwind after a busy day at work or to indulge in a wide variety of international and regional choices of grapes. Let this Football season be another reason to celebrate every single goal at Bar Rouge. Indulge in a special offer featuring sips and bites that will make the celebration even better. Your choice of 2 beverages (Grapes, grains or Mocktails) in addition to any food item excluding the sharing ones for QAR200 per person available daily from 12pm to 12am.  
Delta Hotel City Center, Doha  
Medios Bar – Located on the 32nd floor, enjoy the most stunning views of the Doha skyline while marvelling at the big screens and  celebrate every score and goal. Enjoy a relaxed and friendly atmosphere where can order great traditional Catalunian-inspired dishes such as patatas bravas, fideuas, and croquettes. Cheer for your favourite team and gather your friends while sharing tapas and paella pans paired with delightful sips and Spanish drinks. Spanish sips with sharing tapas at QR 150 and with paella pan for sharing at QR 650.  
More Cravings by Marriott Bonvoy App is free to download on the App Store and Google Play