FIFA World Cup Qatar 2022 to use drones to help protect stadiums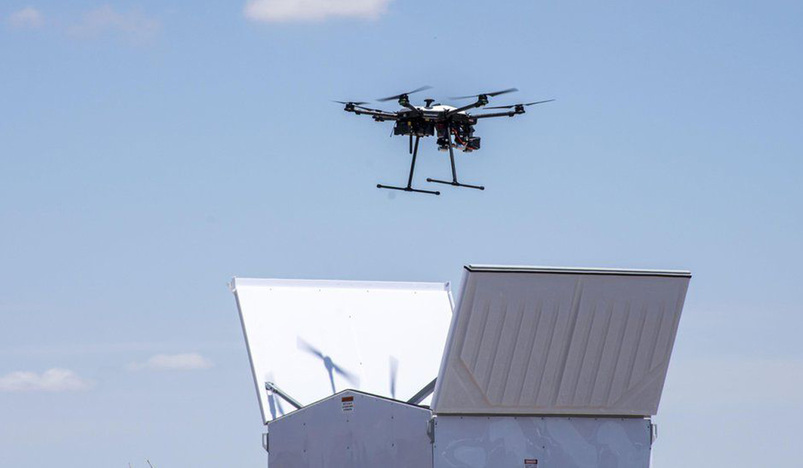 Drone
Man-to-man marking will be paired with drone v drone security at this winter's Fifa World Cup in Qatar.
Unmanned aerial vehicles that shoot nets to bring down small "rogue" drones will help defend venues.
Fortem Technologies will provide the interceptor drones, following an agreement with Qatar's interior ministry.
It says the agreement reflects growing fears about the threat potential drone attacks pose in general.
Fortem says its system is a safe way to bring down drones in built-up locations, reducing the risks of injury that might be caused if weapons were used..
The autonomous, radar-guided interceptor drones - dubbed DroneHunters by the firm - tackle small consumer drones by firing nets to snare the target drone which may then be carried to another location.
For larger drones, a net is launched at the target which is connected to a parachute, slowing the entangled target and forcing it to the ground.
Targets are identified using a "series of very small radars that are distributed throughout the venue, creating a complete picture of the airspace straight up into the air", Fortem chief executive and co-founder Timothy Bean told the BBC.
The company claims the drones have had "live kills" at various security sites around the world.
But the roar of fans will not be accompanied by the buzz of drones because the machines do their work "a mile or so away from the venue", Mr Bean added.
Alternative systems for stopping drones can rely on interfering with the drone's control signals, but Fortem argues terrorists may launch drones on pre-programmed flight paths.
"The reason our business is skyrocketing is because terrorists don't use joysticks. Terrorists don't show up in your parking lot with a joystick. These drones are programmed ... so they can't be jammed," Mr Bean says.
The company says it has deployed anti-drone systems at other sporting events and at the World Economic Forum meeting at Davos. It has donated portable versions of its system to Ukraine, and said it was also working on anti-drone measures for UK airports.
The Utah-based firm, which has received backing from Toshiba and Boeing, will work for the Qatari Ministry of Interior and Safety and Security Operations Committee at the World Cup in November and December.
BBC