FIFA World Cup Qatar 2022 official licensed products now available only at Al Meera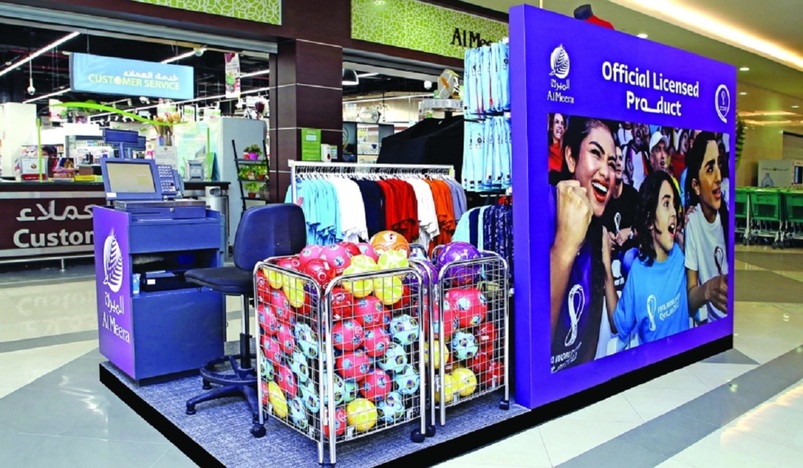 Al Meera launches FIFA World Cup Qatar 2022 official licensed products
Al Meera Consumer Goods Company has launched FIFA World Cup Qatar 2022 official licensed products across its branches, with the aim of giving customers easy access to the current year's in-demand products.
Now available only at Al Meera, FIFA World Cup Qatar 2022 official licensed products range from apparel, fashion accessories, non-professional footballs, homeware, gift and novelties, stationery, and back-to-school items manufactured by Qatar-based FIFA licensees – The Blue Group and Q-Live.
Products will be available for purchase from dedicated kiosks and shelves featuring the look and feel of the tournament, which will be played between November 21 and December 18.
Al Meera, via most of its branches, will be the first retailer in Qatar to make available FIFA World Cup 2022 official licensed products, ensuring the availability of the merchandise at locations in most communities around the country.
Items will be also available through the www.almeera.online, where customers can also benefit from same-day delivery.
Commenting on the launch of the FIFA World Cup Qatar 2022 official licensed products, Al Meera chief executive Yousef Ali al-Obaidan said: "We are extremely pleased to announce that our customers can now find official licensed products for the FIFA World Cup 2022 at their nearest Al Meera store."
"As a national retailer, we are very happy to take part in this big national event and will continue to introduce new products for our valued customers," he said. "With less than a year away from the tournament, we know our customers are really excited, and what better way to keep up the enthusiasm than by bringing a taste of FIFA to their neighbourhood Al Meera branch."
Adding to this, FIFA stated: "We are delighted at the launch of FIFA World Cup 2022 official licensed products at Al Meera stores across Qatar."
"With FIFA being such a big part of people's lives and the culture, what better way to make FIFA World Cup 2022 licensed products accessible to residents and visitors than through the national retailer that enjoys a widespread footprint in the country," it added.
On behalf of the official licensees, chairman of The Blue Group, Jaber al-Musallem, said: "As the nation prepares for a historic 2022, we could not be prouder to collaborate with a leading local retailer, such as Al Meera to bring a range of high-quality products to market."
"Products that showcase not just Qatar, but what Qatar is capable of producing," he added. "We look forward to the opportunity to add to our portfolio of top sporting and lifestyle brands with such collaborations."
Q-Live managing partner Zhan Temerkhanov said: "Q-Live is very pleased to be working closely with Al Meera to distribute exciting FIFA's official licensed products across a branch network that serves nearly every neighbourhood in Qatar."
"We're confident of a highly successful partnership with Al Meera," he added.
The FIFA World Cup 2022 official licensed products come almost a year ahead of the tournament – the first FIFA World Cup to be hosted in the Middle East.
About Al Meera
Al Meera is the largest retail chain in Qatar and runs about 60 branches across the country, including hypermarkets, supermarkets, convenience stores and wholesale outlets.
The retail giant offers a wide-ranging product mix that frequently champions Qatar's national products with shopping-friendly layouts, all designed to provide customers with an enhanced shopping experience.
Uniquely positioned, Al Meera not only has a strong footprint in almost every neighbourhood in Qatar but is also a trusted community leader that drives economic, human, social, and environmental development in line with the Qatar National Vision 2030.
Source: PR