FIFA World Cup Qatar 2022: Hayya Card Service Center at DECC Serves 80 Persons per Minute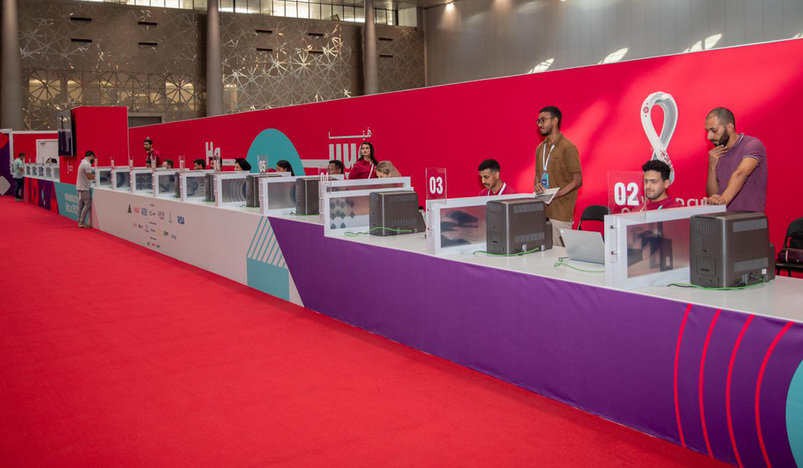 Hayya Card service center
The Executive Director of Hayya Platform at the Supreme Committee for Delivery and Legacy (SC) Saeed Al Kuwari said Sunday that Hayya Card service center at Doha Exhibition and Convention Center (DECC) serves 80 persons per minute through 80 counters prepared to serve fans of FIFA World Cup Qatar 2022. The championship will kick off Nov. 20.
Speaking to journalists during the SC's introduction of the Hayya Card service center to media outlets representatives, Al Kuwari stressed that the Haya Card is mandatory for all ticketed fans to enter the eight World Cup stadiums, and free access to public transport on match days during the tournament. For international fans, the card will serve as an entry permit.
Al Kuwari added that the so far opened centers are able to provide service to everyone, through the Doha Exhibition and Convention Centers in the West Bay region, and the Ali bin Hamad Al Attiyah Hall in Al Sadd Sports Club, noting that the printed card is not mandatory, as the digital card enables its holder to benefit from all services after activating it.
The main advantage of the Haya card is that it serves as an entry permit to the State of Qatar, and provides free access to public transportation and entry to the stadium, in addition to other services after activating the platform, he reiterated.
Addressing the precautions to protect the platform against cyber-attacks, Al Kuwari highlighted contracts with major international cyber security companies, affirming that all the card-linked technical problems were resolved since the launch of the platform in March by reviewing all the feedback.
He also stressed that there is a great turnout to obtain the Hayya card, and that all those who meet the conditions for the card were able to apply for it, pointing out that the DECC provides many services, including technical support, and the issuance of the printed card.
Hayya teams seek to provide full support to fans in all the so far opened centers to ensure a smooth experience for everyone, Al Kuwari said.
The Director of the Haya Card Services Center at DECC, Saad Al Suwaidi said the card can be obtained in any center in only two steps, adding that the center works on all days of the week, from Saturday to Thursday from 10 am to 10 pm, and on Fridays from 2 pm to 10 pm.
Application for the Hayya card can be submitted through the Hayya platform, or through the "Hayya to Qatar 2022" App on smart phones, which is available on "Apple" stores, "Google Play" and "Huawei". To get the card, fans should upload a valid ticket number, personal data, a copy of the passport or ID card, as well as information on their accommodation.
The SC holds virtual series of seminars to discuss all the details required for submitting Hayya Card applications.
(QNA)