FIFA World Cup Qatar 2022: FIFA Reveals Participating Teams Base Camps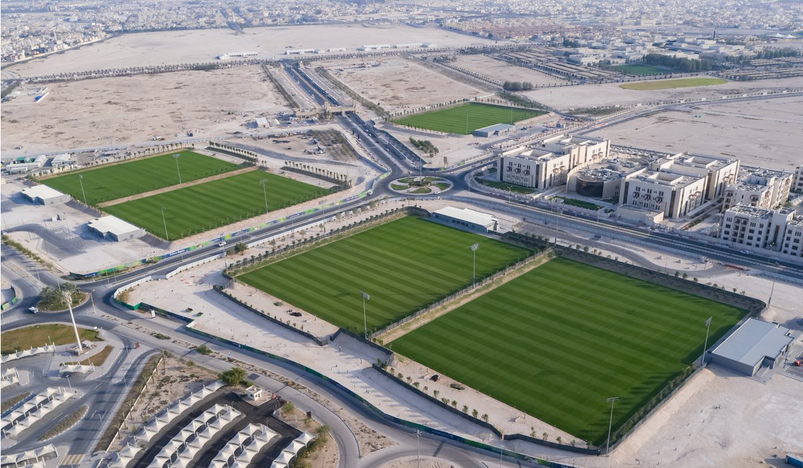 Teams Base Camps
FIFA revealed Tuesday Team Base Camps for the teams participating in FIFA World Cup Qatar 2022, which will be held from November 21 until December 18 in Qatar.
In its statement on Tuesday, FIFA said that a total of 162 inspection visits were organized for the teams that participated in the FIFA World Cup 2022 qualifiers, starting in October 2019.
FIFA pointed out that the participating 32 teams will have a Team Base Camp (TBC) to call home at the most compact FIFA World Cup since the inaugural instalment in 1930. With no domestic flights required during the tournament, the same top-class facilities will be used throughout the competition. For this edition, therefore, official training sessions the day before matches will also be held at the respective training sites.
A Team Based Camp (TBC) is the headquarters of a participating team during the competition period of the FIFA World Cup. It combines a dedicated Team Base Camp Training Site (TBCTS) with a suitable hotel or other form of accommodation (TBCH). There will be three types of training site in use during the tournament: local clubs, cluster training facilities and stadium training sites. Many have been built from scratch or renovated, representing an important part of the tournaments legacy for grassroots football in Qatar.
The TBCHs range from four- and five-star hotels to villas, resorts and non-hotel accommodation, including sports academy residences and school/university housing. Besides facilities such as treatment rooms, they feature dedicated common areas to safeguard teams privacy, and also comply with the relevant security protocols.
The following are the TBCH and TBCTS for the teams participating in FIFA World Cup Qatar 2022 as per the official announcement of FIFA:
Group A teams: Qatar: TBCH: Al Aziziyah Boutique Hotel TBCTS: Aspire Zone Training Facilities 3 Ecuador: TBCH: Hyatt Regency Oryx Doha TBCTS: Mesaimeer SC Training Facilities Senegal: TBCH: Duhail Handball Sports Hall TBCTS: Al Duhail SC 2 Netherlands: TBCH: The Sr. Regis Doha TBCTS: Qatar University Training Site 6
Group B Teams: England: TBCH: Souq Al Wakra Hotel Qatar By Tivoli TBCTS: Al Wakrah SC Stadium IR Iran: TBCH: Al Rayyan Hotel Doha Curio Collection by Hilton TBCTS: Al Rayyan SC Training Facilities 1 USA: TBCH: Marsa Malaz Kempinski, The Pearl - Doha TBCTS: Al Gharafa SC Stadium Wales: TBCH: Delta Hotels City Center Doha TBCTS: Al Sadd SC New Training Facilities 2
Group C Teams: Argentina: TBCH: Qatar University Hostel 1 TBCTS: Qatar University Traning Site 3 Saudi Arabia: TBCH: Sealine Beach, A Murwab Resort TBCTS: Sealine Training Site Mexico: Simaisma, A Murwab Resort TBCTS: Al Khor SC Stadium Poland: Ezdan Palace Hotel TBCTS: Al Kharaitiyat SC Training Facilities
Group D Teams: France: TBCH: Al Messila - A Luxury Collection Resort & Spa, Doha TBCTS: Al Sadd SC Stadium Australia:TBCH: New Aspire Academy Athlete Accommodation TBCTS: Aspire Zone Training Facilities 5 Denmark:TBCH: Retag Salwa Resort & SPA TBCTS: Al sailiya SC 2 Tunisia: TBCH: Wyndham Grand Doha West Bay Beach TBCTS: Al Egla Training Sites 3
Group E Teams: Spain: TBCH: Qatar University Hostel 2 TBCTS: Qatar University Training Site 1 Costa Rica:TBCH: ducitD2 Salwa Doha TBCTS: Al Ahli SC Stadium Germany: TBCH: Zulal Wellness Resort TBCTS: Al Shamal Stadium Japan: TBCH: Radison Blu Hotel Doha TBCTS: Al Sadd SC New Training Facilities 1
Group F Teams: Belgium: TBCH: Hilton Salwa Beach Resort and Villas TBCTS: Salwa Training Site Canada: TBCH: Century Premier Hotel Lusail TBCTS: Umm Salal SC Training Facilities Morocco:TBCH: Wyndham Grand Doha West Bay TBCTS: Al Duhail SC Stadium Croatia: TBCH: Hilton Doha TBCTS:Al Erssal Training Site 3
Group G Teams: Brazil: TBCH: The Westin Doha Hotel and Spa TBCTS: Al Arabi SC Stadium Serbia: TBCH: Rixos Gulf Hotel Doha TBCTS: Al Arabi SC Training Facilities Switzerland: TBCH: Le Royal Meridien, Doha TBCTS: University of Doha Training Facilities Cameron: TBCH: Bonyan Tree Doha At La Cigali Mushaireb TBCTS: Al Sailiya SC Stadium
Group H Teams: Portugal: TBCH: Al Samriya Autograph Collection Hotel TBCTS: Al Shahania SC Training Facilities Ghana: TBCH: Double Tree By Hilton Doha- Al Sadd TBCTS: Aspire Zone Training Facilities 1 Uruguay:TBCH: Pullman Doha West Bay TBCTS: Al Erssal Training Site 1 Korea Republic: TBCH: Le Meridien City Center Doha TBCTS: Al Egla Training Site 5
(QNA)