FIFA World Cup Qatar 2022 branding items transformed into new plastic products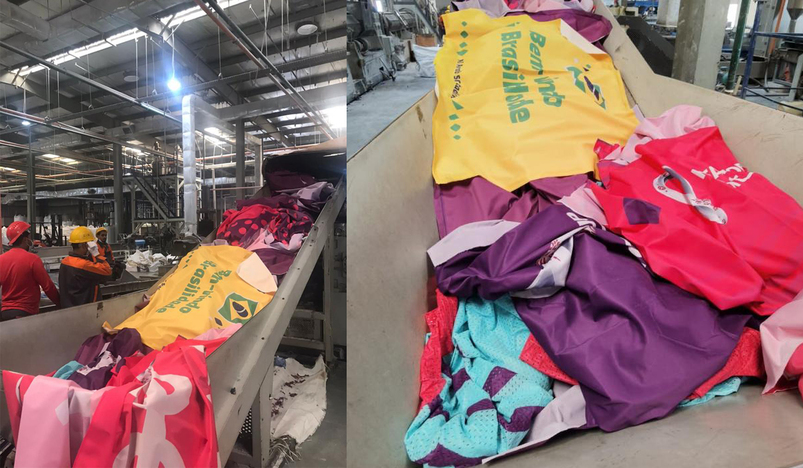 Qatar 2022 branding items
The Supreme Committee for Delivery and Legacy (SC) said Sunday that 173 tons of branding materials from the FIFA World Cup Qatar 2022 are being recycled by a company in Saudi Arabia.
Made from polyester fabric, the materials were previously used as stadium wraps, banners and fence coverings.
They were visible at both host country and tournament venues, as Qatar hosted the first FIFA World Cup in the Middle East and Arab world.
In order to support the tournament's sustainability goals, the SC has collaborated with Saudi Top Plastics (STP) to recycle the materials which will be turned into plastic pellets and used to create new products like tape, fabric and packaging.
SC's Sustainability Executive Director Eng. Bodour Al Meer said, "In the past, mega event organisers have found it challenging to dispose of polyester fabric in an environmentally friendly way. We made it a priority to find a sustainable solution which led us to this collaboration. We are very pleased to have partnered with STP, as they are supporting our goal of recycling materials which too often end up being sent to landfill."
Based in Riyadh, STP was the nearest facility that had the ability to recycle polyester fabric used during Qatar 2022.
After the tournament, which concluded on 18 December last year, the process of removing and transferring the relevant materials was conducted in close coordination with suppliers, logistics partners and customs authorities.
After receiving the materials, STP began the process of transforming them into recyclable plastic.
"We are delighted to partner with the SC on this project, which highlights the possibility of sustainable solutions for mega events like the FIFA World Cup," said Wail Al Jaaidi, STP's Chief Executive Officer.
"We are proud to be supporting the sustainable legacy of the tournament." The recycling of polyester fabric was one of numerous environmental projects organized during Qatar 2022. Organizers recycled nearly 80% of all waste from the tournament, with the remainder sent to a waste-to-energy plant.