FIFA President visits Qatar 2022 facility hosting Afghan refugees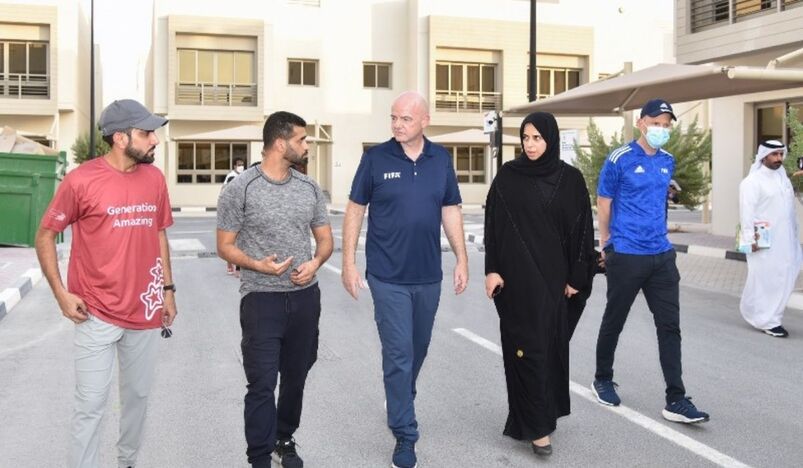 FIFA President Gianni Infantino has visited a Qatar 2022 residential compound currently hosting a number of refugees from Afghanistan. Infantino was accompanied on the visit by HE Lolwah Al Khater, Assistant Foreign Minister of Qatar and HE Hassan Al Thawadi, Secretary General of the Supreme Committee of Delivery & Legacy (SC).
Since the arrival of refugees from Afghanistan to Qatar, Generation Amazing (GA), an SC legacy programme that uses football to drive social change and promote gender equality and inclusivity around the world, has engaged many of the younger Afghan refugees in a series of initiatives that have been designed to provide a safe space for them to thrive in. GA, in partnership with Qatar's Maktaba Children's Library, is also delivering a wide range of educational activities and offering psychosocial support to Afghan refugees of all ages.
During the visit, FIFA President Gianni Infantino emphasised the important role football can play when meeting refugees from Afghanistan being housed at the Park View Villas complex in Doha on Saturday.
"First of all, I would like to thank the Qatar people, the Qatar Government and His Highness the Amir of Qatar for the incredible efforts that are made by this country to welcome so many people from Afghanistan as they live through difficult moments of their lives but are able to come here as a safe haven," the FIFA President said to assembled media.
"The fact that this compound – something that was thought to be useful for the FIFA World Cup – has been able to be transformed into a home for people from Afghanistan for a transitional period is something that of course, fills us with joy," Mr Infantino added, having visited the nursery and the outdoor five-a-side football pitch at the facility, both of which are being used to deliver GA programmes as part of its efforts to support the many refugees that have been evacuated to Qatar.
The FIFA President also explained the important role that football has to play in supporting the Afghanistan people in these times of great difficulty, with the football community already mobilising itself to help football players and their families arriving in countries around the world having had to leave their homeland.
With just over one year to go until Qatar hosts the first FIFA World Cup in the Middle East and Arab world, tournament organisers continue to stress the social impact and legacy the tournament will have on the region. 
During the visit, Al Thawadi said: "It was a humbling experience to meet those forced from their homes, and to listen to their personal stories.  Our government is exerting every effort to ensure that the health, dignity, and welfare of refugees is preserved and protected.  I'm pleased that the SC's Generation Amazing can contribute to these efforts, through providing facilities for playing football and sport, and books and reading materials for children." 
"By providing safe spaces for young people to learn, play football and express themselves, we hope to play a small role in alleviating the pain of displacement. Our involvement is driven by a long track record of projects in which many of Generation Amazing's initiatives have had a positive impact on the communities they are intended to serve, something we are committed to doing long after the World Cup in 2022," he added.