Festive Celebrations Dominate Katara and Corniche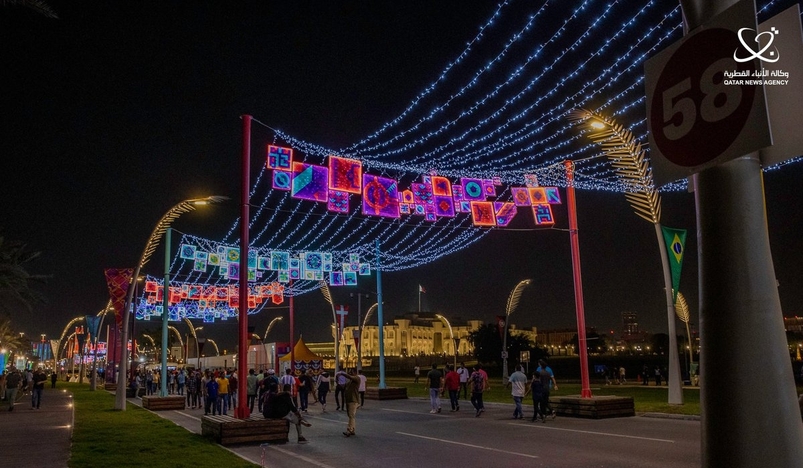 Corniche
Fans of the FIFA World Cup Qatar 2022 turned the squares of corniche and the Cultural Village Foundation - Katara into a colorful celebration of life, art and beauty ahead of the opening match between Qatar and Ecuador on Sunday.
The fans - nationals, residents and visitors - raised the Qatari flag in appreciation of the State of Qatar's efforts that turned the Arab dreams to host the World Cup into a reality under a wise and strong-willed leadership.
All fans expressed their love for Qatar and their enjoyment of the magical atmosphere of the World Cup. Music, plastic arts, and fashion aesthetics were strongly present amid bright colored lights that reflected the scenes of creativity, novelty, passion and enthusiasm.
Qatari young girls in Qatari traditional costumes chanted songs of Qatar, cheered for the Qatari national team and welcomed the guests of Qatar.
In central Katara, fans from different countries of the world interacted with traditional instruments melodies composed by Indonesian composers.
Thousands of fans wore the slogans and hats of the teams participating in the tournament.
In Souq Waqif, crowds of Qatari and resident fans raised Qatari flags and the flags of their countries, in a carnival showing the cultural and human diversity in the State of Qatar.
Along the Doha Corniche, thousands of fans gathered to celebrate the global event and watch the opening ceremony, which was broadcast live from Al Bayt Stadium.
(QNA)