FENIX Launches Exclusive Partnership with Aspire Zone in Qatar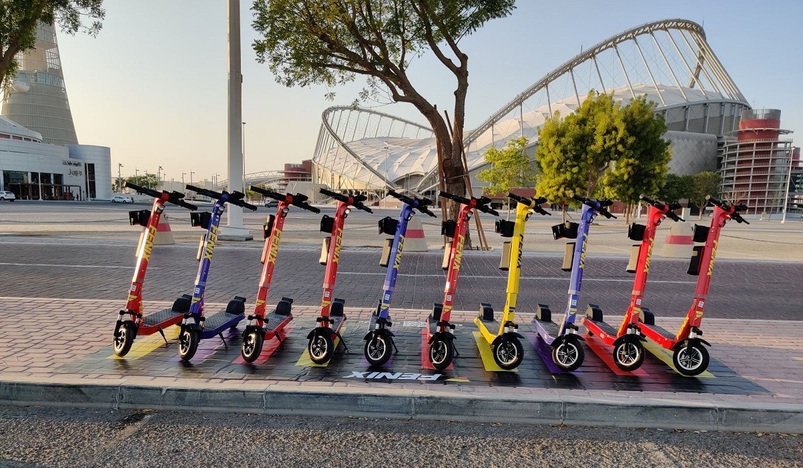 FENIX e-scooters in Qatar
Aspire Zone becomes the fifth strategic location for FENIX in Doha, following WestBay, Onaiza, Legtafiya and Aziziya
In addition to its industry leading custom e-scooters, FENIX will also introduce its innovative e-bikes to Qatar, starting in Aspire Zone to further expand micromobility choice in the country. 
Aspire Zone partnership follows strategic collaboration with Qatar Rail and further highlights FENIX's long term commitment to unleash urban potential in Qatar 
FENIX, the leading MENA-wide micromobility operator with a mission to unleash urban potential and propel communities forward, has launched its proprietary e-scooters at Aspire Zone in an exclusive partnership to enable connectivity between the key destinations of the complex.
The partnership between FENIX and Aspire Zone will offer all visitors and employees a healthy, affordable and environmentally friendly way to move around the area, with e-scooters available across multiple designated spots throughout the zone. 
Additionally, FENIX will be introducing its groundbreaking shared e-bikes first across Aspire Zone, and thereafter progressively expand it to other areas in Qatar in the coming months. The introduction of e-bikes is another product FENIX will add to its micromobility portfolio which includes shared e-scooters and private subscription e-scooters. By offering choice to the market, FENIX is addressing a broad range of customer segments, use cases, price points and environments. This allows more alternative options beyond the car for single passenger city travel and unleashes new mobility demand to facilitate local commerce.
FENIX successfully operates across Westbay, Onaiza, Legtaifiya, and Al Waab, and has recently expanded with Qatar Rail to support first-last mile needs across nine metro stations, improving connectivity for metro passengers. The expansion in Aspire Zone represents a new milestone for the company, determined to further promote multi-modal and electric transportation in Qatar. 
With the approach of the much-awaited FIFA World Cup 2022™, FENIX is committed and investing in Qatar to support its efforts towards more efficient and more enjoyable transportation experiences that address congestion challenges ahead of the drastically increased mobility demand that will occur at the anticipated mega-event. FENIX's high quality micromobility presence in Aspire Zone and adjacent metro stations will provide seamless connectivity to Khalifa International Stadiums and Aspire leisure and fan zones. 
Sheikh Jabor Bin Mansour Bin Jabor Bin Jassim Al Thani, Chairman Emeritus, FENIX Qatar, said: "We are honored to become Aspire Zone's exclusive micromobility partner. Being one of Qatar's flagship areas, home to Aspire Park and Khalifa International Stadium, Aspire Zone is a major attraction for locals and tourists. In line with the innovative spirit of Aspire Zone, FENIX micromobility solutions will enable all visitors and fans to explore the zone in full and support the mobilization of fans between different drop-off points and the stadium". 
Keshav Jayant, Head of Commercial, FENIX Qatar added: "We would like to thank Aspire for the trust and support that were crucial to introduce FENIX's mobility innovations throughout the Aspire Zone. We are confident that the new mobility e-scooters will be welcomed by those working and living in the area, as well as the visitors from across Qatar and abroad, while further encouraging sustainable lifestyle choices beneficial for the environment, local commerce, as well as social development". 
FENIX continues its ongoing investment in the Qatari market, pioneering the country's micromobility offering with the best-equipped and impeccably maintained e-scooters and soon-to-launch, e-bikes. Given micromobility offers more affordable, convenient, energy and infrastructure-efficient urban transportation, FENIX is leading its expansion of and continued development in Qatar and across the Middle East, playing an active role in sustainable urban development. 
FENIX has the largest fleet of electric vehicles in the Middle East and each scooter is equipped with the world's first integrated hand sanitization packs. Users can avail FENIX services, including MyFENIX private subscriptions via the FENIX mobile application, available on the iOS and Google Play stores.
FENIX is committed to Qatar. Providing last-mile connectivity solutions, FENIX aims to support the Qatar National Vision 2030 with the state having identified infrastructure building as key to engendering "a dynamic and more diversified economy"; and in environment development, one of the key pillars of the vision which provides harmony between economic growth, social development, and environmental protection.
ABOUT FENIX
Jaideep Dhanoa and IQ Sayed, former co-founders of Circ and colleagues at Careem, created FENIX with a mission to unleash urban potential and propel communities forward. FENIX is committed to the Greater Middle East region – to transform the way our cities move and ignite impactful commerce. 
With a multimillion-dollar investment in talent, technology and operations excellence tailored for the Greater Middle East, the company delivers dependable, highest-quality rides with custom-made personal light electric vehicles, to make cities easier to navigate and more enjoyable to explore. 
FENIX is the first micromobility operator in the world to introduce integrated hand sanitization packs on every FENIX e-scooter to ensure rider safety, in light of the COVID-19 pandemic. In addition, FENIX has launched the region's first private e-scooter subscription service, MyFENIX, now with thousands of active subscribers across 8 cities. FENIX is also the first micromobility company globally to enter the rapid deliveries space with it's F10 vertical, leveraging unique synergies on its micromobility platform for capital efficiencies.
FENIX retains the largest fleet of electric vehicles in the Middle East, operating in 5 countries and 13 cities.
FENIX Qatar is a member of the ARC Group under the stewardship of Sheikh Jabor Bin Mansour Bin Jabor Bin Jassim Al Thani. 
For more information, please visit http://fenix.life