Feel-Good Romantic Comedies to Watch on beIN This February!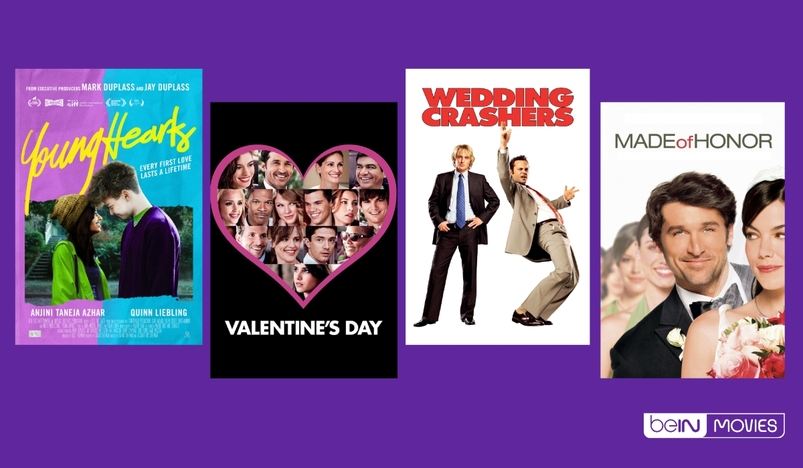 Feel Good Romantic Comedies to Watch
Who doesn't love a feel-good, moonstruck, romantic film? beIN MEDIA GROUP (beIN) has got you covered this month! Every Friday throughout February, beIN will be celebrating the month of love at 21:30 MECCA, on beIN MOVIES 3 DRAMA starting with Young Hearts on February 3, followed by Valentine's Day on February 10, Wedding Crashers on February 17, and finally Made of Honor on February 24.
Young Hearts, 2020

Harper (Anjini Taneja Azhar), a 14-year-old enters high school and unexpectedly sparks a relationship with Tilly (Quinn Liebling), her brother's best friend. As she makes her way through high school, Harper is faced with unfair gender politics and social blowback, while Tilly is thriving. The modern love story directed by brother and sister duo, Zachary Ray Sherman, and Sarah Sherman, prompts a dialogue of social change as it sheds light on the recent "Time's Up" and "Me Too" movements.
Valentine's Day, 2010

The immensely popular film takes place over the span of a day, starting on the morning of Valentine's Day, and ending over midnight. In Los Angeles, intertwining couples and singles played by star-studded cast members including Julia Roberts, Jamie Foxx, Anne Hathaway, Jessica Alba and Bradley Cooper, break-up and make-up based on the pressures and expectations of February 14. A schoolboy wants flowers for his first true love; two high school seniors plan a special day; a TV reporter gets the assignment to find romance in the city; a star quarterback contemplates his future; two strangers meet on a plane; grandparents, together for years, face a crisis; and an "I Hate Valentine's Day" dinner beckons the lonely and the lied to. With love hanging in the balance, can Cupid finish his work by midnight?
Wedding Crashers, 2005
This outrageous comedy, stars Vince Vaughn and Owen Wilson; lifelong friends who pose as divorce mediators and have never found a wedding they couldn't talk their way into. Guided by a secret set of wedding crashing "rules", the pair find their way into a different wedding – and the heart of a different bridesmaid – every week. But when they crash the social event of the season, one of them falls for the engaged daughter (Rachel McAdams) of an influential and eccentric politician (Christopher Walken) and decides to break the "rules" in pursuit of her. This leads to a wild weekend at her family's palatial estate, where the ultimate "Crashers" quickly find themselves in way over their heads.
Made of Honor, 2008 

Made of Honor, starring Matthew Dempsey and Michelle Monoghan, revolves around Tom and Hannah, who have been platonic friends for 10 years. He's a serial dater, while she's ready to settle down but has yet to find Mr Right. Just as Tom is starting to think that maybe he is ready for a relationship after all, Hannah gets engaged. Will Tom be able to sweep Hannah off her feet, or will she end up in the arms of another man?
Want to know what else is playing on beIN? Check out their entertainment top picks offering multiple different genres in February on: www.bein.com/en/bein-choices/