Fans praise 'amazing' accessibility experience at FIFA World Cup Qatar 2022™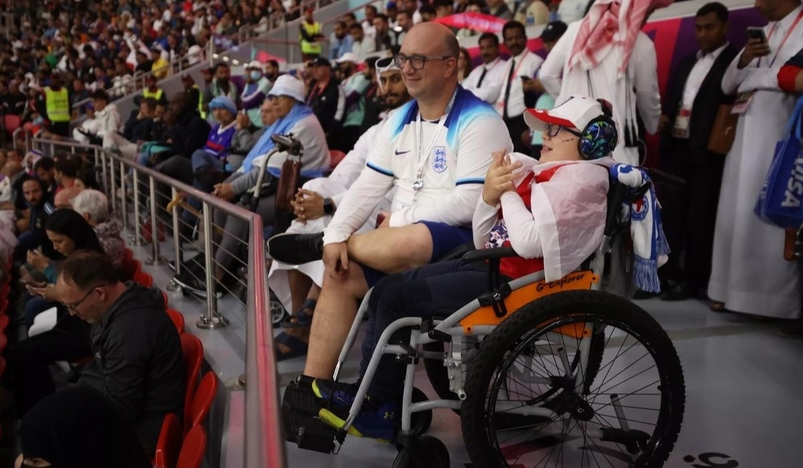 Fans praise 'amazing' accessibility experience at FIFA World Cup Qatar 2022™
Before every kick-off at the FIFA World Cup Qatar 2022™, two fans in the accessibility seats have been invited to meet their heroes and be a part of the pre match ceremony. It is a small gesture – but one which means an incredible amount for those lucky enough to experience it. Ten-year-old Aidan Bell was chosen to line up with England ahead of their quarter-final match against France at Al Bayt Stadium – and for his dad, George, seeing his son next to Three Lions captain Harry Kane was a mind-blowing moment.
"It was amazing – words can't do justice to how proud that made me. Watching the national anthem at a World Cup quarter-final and seeing Aidan there – it was unbelievable," said George, an accountant who has lived in Qatar since 2017. He added: "The accessibility at this World Cup is absolutely amazing. From the moment you arrive, everything is brilliant – the parking, the security, the volunteers – everyone is so helpful. Everything is very clearly signposted and the facilities are very good. Aidan loves coming to games – this is his third so far – and we are having a great time."
Ahmed Al Bahar, from Kuwait, was chosen to be on the pitch for the France team ahead of kick-off – and he was full of praise for the accessibility features of the tournament. "This is the number one experience of my life," said Ahmed. "It was a dream. On the pitch, I couldn't believe I was there. It's like you're somewhere else. It's amazing." He continued: "This is one of the best accessibility experiences I have seen. From the moment I got to the stadium, everyone was so helpful. The entrance is wonderful and there are many rest rooms – which is a big deal for disabled fans. The seating is beyond amazing and I thank everyone organising this event – it has been incredible."
The Supreme Committee for Delivery & Legacy (SC) and FIFA have successfully delivered the most accessible FIFA World Cup in history. The tournament has included a vast range of accessibility features, five types of accessible tickets, including sensory rooms, audio descriptive commentary for blind and partially-sighted fans in Arabic and English, mobility assistance services in the last mile and inside the stadiums, and facilities to ensure the safety and comfort of all fans. Tournament preparations were supported by the Accessibility Forum, which was launched by the SC in 2016 and meant disabled fans contributed to the development of facilities and projects to ensure this edition of the FIFA World Cup catered for every section of society. Khalid Al Naama, Executive Director, Community Engagement & Commercial Development, said: "From the very start, our goal was to host the most accessible FIFA World Cup in history – and we are beyond proud to see our plans being delivered successfully.
"The feedback we have received from members of the accessibility community has been excellent and we are happy that our commitment in this area is helping to drive the accessibility agenda in Qatar and across the region. We are sure this will prove to be one of the enduring legacies of the first FIFA World Cup in the Middle East and Arab world." Hala Ousta, Senior Diversity & Accessibility Manager, FIFA, said: "Accessibility and inclusivity have been key principles of delivering the tournament. They have been embedded across different strategies and can be seen at all eight stadiums – including infrastructure, accessible parking, five types of accessible seating, accessible toilets and sensory rooms. "Our accessibility work is complemented by an exclusive programme of randomly selecting fans, getting them to enjoy the pre-match ceremony on the pitch and lining up alongside the players and officials. It is something to celebrate the most accessible tournament we've had to-date."