Face masks compulsory in England from Tuesday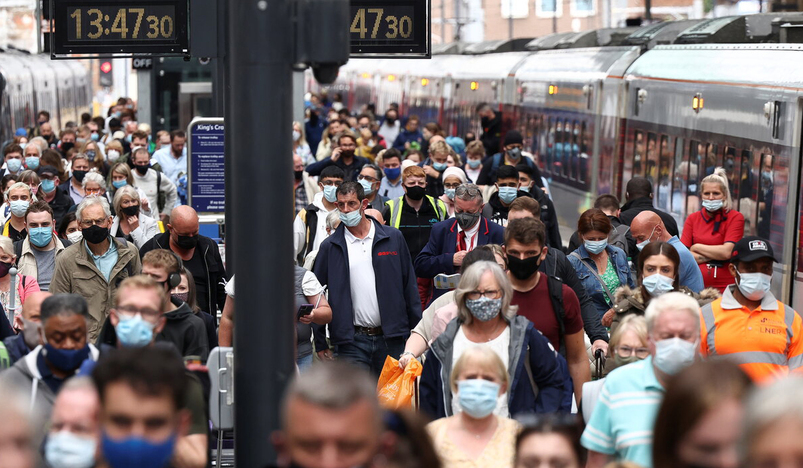 Face masks compulsory in England
Face masks will be compulsory in shops and on public transport in England, and UK arrivals are expected to have to take PCR tests from Tuesday in response to the new Omicron variant.
Health Secretary Sajid Javid said the measures would help to ensure that people can "enjoy Christmas with our families".
Mr Javid said the government had acted "swiftly" and "in a proportionate way".
But a doctor who treated the variant said there had been unnecessary panic.
Meanwhile, adults aged 18 and over "will have an offer of a booster earlier than we had previously envisaged", the deputy chairman of the Joint Committee on Vaccines and Immunisation told BBC Radio 4's Broadcasting House.
Professor Anthony Harnden said: "There is a very good, strong argument for raising the antibody level in the whole of the community. So accelerating the booster programme both by extending the age range and by reducing the interval between the second dose and the booster dose, would be a sensible strategy."
The government has stopped short of issuing advice to work from home and extending vaccine passports in England, which are part of its Plan B for winter - a contingency plan if intervention on Covid is needed to protect the NHS.
Mr Javid told the BBC's Andrew Marr Show that the government "could not have acted more swiftly".
"The reason we've set out these measures yesterday is to protect the progress we've made so we can all continue to enjoy Christmas with our families," he said.
He said the UK would take further action "in a proportionate way wherever necessary" but he did not think working from home guidance was needed.
He did not outline when PCR tests for overseas arrivals would be required, saying it would be "as soon as possible" but he needed agreement from all UK four nations. The government website said the change would be implemented from 04:00 GMT on Tuesday.
Mr Javid told Sky News the face mask rules would also be implemented on Tuesday, bringing England in line with the rest of the UK, but he hoped all the new measures could be lifted again "within weeks".
The South African doctor who treated early cases of the Omicron variant told the BBC countries could be "panicking unnecessarily" and the symptoms she had seen were "extremely mild".
Dr Angelique Coetzee, chair of the South African Medical Association, said she had first encountered the variant in patients who had fatigue, aches and pains, but no cough or change in sense of smell or taste. "We haven't admitted anyone," she said.
But she acknowledged that understanding of the variant was developing and in two weeks' time they would know more.
Prof Neil Ferguson - a key government adviser on the pandemic - said "it's likely we'll detect quite a lot more cases in the coming days" because the UK and the Netherlands have the largest number of flights from South Africa, where the variant is circulating.
Tests on passengers on two flights into Amsterdam found 61 cases of Covid, of which 13 were the Omicron variant.
Meanwhile, Scotland's First Minister Nicola Sturgeon said "we may need to go further in restricting travel in the days to come", adding: "We need to be open-minded to doing anything to keep the population safe."
Some countries have imposed travel restrictions on the UK following the detection of Omicron cases, including Spain - which will require proof of vaccination from travellers from Wednesday - and Switzerland, which now requires proof of vaccination, a negative Covid test and 10 days' quarantine.
It comes as Cardiff Rugby has said the team's departure from a visit to South Africa has been delayed after two positive Covid cases were confirmed. One of the cases is suspected to be the Omicron variant.
At a Downing Street news conference on Saturday, the prime minister called the new measures temporary and precautionary - and said they would be reviewed in three weeks, just before most schools break up for the Christmas holidays.
Labour has called for full implementation of Plan B and for improved sick pay to encourage self-isolation.
SOURCE: BBC