Expo 2023 Doha and Msheireb Properties Join Forces to Champion Sustainability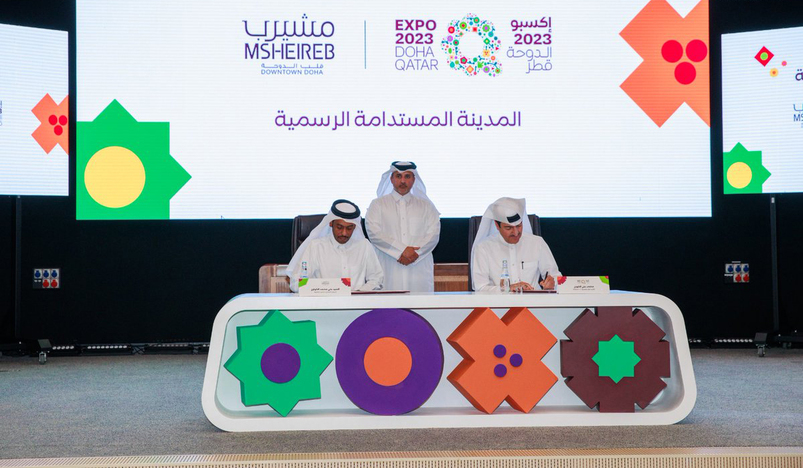 Msheireb Properties
In the presence of HE Minister of Municipality Abdullah bin Abdulaziz bin Turki Al Subaie, who is also Chairman of the National Committee for Hosting Horticultural Expo 2023, Expo 2023 announced a new landmark partnership with Msheireb Properties, elevating the real estate developer as the official Sustainable City for the highly anticipated global event.
Concluded at a signing ceremony held today, the partnership agreement was sealed between Mohammed Ali Al Khouri, Secretary-General of Expo 2023, and Msheireb Properties' CEO Ali Mohammed Al Kuwari.
Scheduled to commence on Oct.2, 2023, Expo 2023 Doha will provide a platform for innovation, collaboration and global dialogue centred on sustainability. The partnership with Msheireb Properties will elevate Qatar's commitment to sustainable development and provide a tangible look into the future through the lens of the pioneering Msheireb Downtown Doha project.
Msheireb Properties, a pioneering force in sustainable real estate, will play an instrumental role in supporting Expo 2023 Doha's overarching mission of fostering sustainable practices and addressing global challenges. The partnership further aligns seamlessly with Qatar's dedication to advancing sustainability across all facets of society and industry.
As part of the partnership, Msheireb Properties' role as the Official Sustainable City will encompass several key initiatives, including a tour programme presenting the tangible achievements of Msheireb Downtown Doha, a hallmark project renowned for its innovative approach to urban development and sustainable living. In addition, Msheireb Properties will also provide marketing and communication services as well as brand exposure campaigns for Expo 2023 Doha.
"We are thrilled to welcome Msheireb Properties as our Official Sustainable City for Expo 2023 Doha. Their expertise and dedication to sustainable urban development perfectly align with the core values of our event. Together, we aim to create a lasting impact, inspire change, and pave the way for a more sustainable future," said Eng. Mohammed Ali Al Khouri, commenting on this significant step.
"Our support for Expo 2023 Doha is rooted in Msheireb Properties' core belief that sharing knowledge and experiences among peers and counterparts in the field of sustainable building, construction and urban planning is crucial to successfully facing the environmental challenges that lie ahead. We welcome the world to see how Msheireb Downtown Doha has pushed the boundaries of urban planning by integrating local heritage and innovation to create a smart, sustainable city of the future", said Msheireb Properties CEO Ali Mohammed Al Kuwari.
Expo 2023 Doha and Msheireb Properties invite audiences from around the world to join them in this journey towards a more sustainable and resilient future. Expo 2023 Doha and Msheireb Properties, together, contribute to paving the way towards urban sustainability and innovation to be a source of inspiration for future generations.
Expo 2023 Doha will be the first A1 International Horticultural Exhibition to be held in Qatar, the Middle East, and North Africa. Organized and Led by the Ministry of Municipality, Expo 2023 Doha is conceived in line with the guiding principles of Qatar National Vision 2030 that puts environmental management and sustainable development at the heart of its mission.
Running for 179 days from October 2, 2023 till March 28, 2024 and aiming to reach more than 3 million visitors, Expo Doha 2023 will offer guests with an opportunity to visit ornamental gardens, attend public debates, conferences, live shows and enjoy art and culinary performances in the dedicated area in Al Bidda Park spanning across 1.7M square metres and facing the azure waters of the Arabian gulf.
Under the auspices of the BIE (Bureau Internationale Des Expositions) and AIPH (International Association for Horticultural Producers), the exhibition will draw international visitors and organizers from 80 countries, as well as the national and international related Industries, Government entities and officials (local, regional and international), Non-governmental organisations, Commercial affiliates; Sponsors, Partners, Suppliers, Media (local, regional and international) and national, regional, international general public visitors. The theme of Expo 2023 Doha is "Green Desert, Better Environment" as it aims to encourage sustainable innovation and reduce desertification. It will inspire visitors to take part in the change through 4 sub-themes: Modern Agriculture, Technology & Innovation, Environmental Awareness, and Sustainability.
(QNA)