Exclusive Promotional Code For Guests Attending Expo 2023 Doha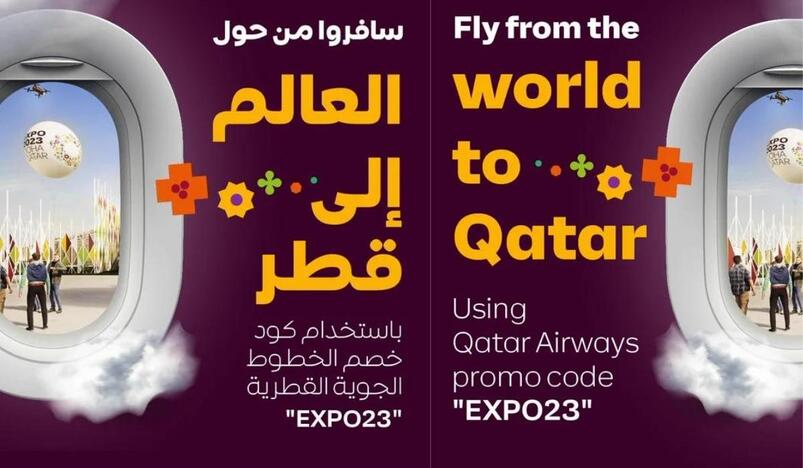 Promo Code For Expo 2023 Doha Visitors
Expo 2023 Doha has introduced a special promo code, EXPO23, exclusively for international visitors. This code can be utilized when booking flights and accommodations to access fantastic discounts. The official Expo 2023 Doha X account has announced this exciting offer. You can use the promo code for booking Qatar Airways flights and reserving hotel accommodations.
It's worth noting that entry to Expo 2023 Doha is free for all visitors, and an option called the Hayya Card will be available to enhance the visitor experience. The event is scheduled to run from October 2, 2023, to March 28, 2024.
Qatar Airways is the official airline partner, while Hamad International Airport (HIA) serves as the strategic partner for the expo. HIA will ensure seamless connectivity for passengers arriving in Qatar, facilitating easy access to Doha and the event venue.
Visit Qatar has thoughtfully curated pre-made itineraries ranging from one to six days. These itineraries encompass a wide range of attractions, including tourist spots, cultural landmarks, heritage sites, museums, shopping districts, beaches, sand dunes, street art, dining venues, culinary diversity, adventure destinations, safaris, and wellness locations.
The pre-made itineraries offered by Visit Qatar present opportunities to explore UNESCO World Heritage sites like the Al Zubarah Archaeological site, Katara Cultural Village, The Pearl-Qatar, Al Sheehaniya Camel Race Track, East-West/West-East installation, Sheikh Faisal Bin Qassim Al Thani Museum, Souq Waqif, Msheireb Museums, Museum of Islamic Art, National Museum of Qatar, Museum of Illusions, the Corniche, and various shopping malls across Qatar. Accommodation packages include a selection of hotels and resorts across the country.
Exciting developments are in progress at the Expo 2023 Doha site at Al Bidda Park, as reported by the local Arabic daily Arrayah. The family zone is undergoing final preparations and will feature key facilities such as an Environment Centre and a Biodiversity Museum, offering ample space for ecological presentations and displays of renewable energy technologies.
The family zone will also provide an open area for educational shows and activities, designed to entertain families and children, making it an ideal destination for family vacations. Expo 2023 Doha will additionally feature a farmers' market showcasing local produce, alongside cafes, restaurants, and various retailers. The culture market will include handicraft corners showcasing traditional and heritage products from around the world.